Karateka – Bringing Web3 Entertainment to Combat Sports with Karate Combat
Dallas, TX — GameOn, a company using Web 3.0 to enhance the sports and fantasy gaming experience, is making waves in the industry with their Karateka launch. With over 60 million people in the United States playing fantasy sports, game developers need to keep generating new and exciting opportunities to keep players engaged.
On a recent episode of Gossip About Gossip by Hedera, host Zenobia Godschalk, SVP Communications of Swirlds Labs, spoke with Matt Bailey, CEO of GameOn, about their journey and how they are leveraging blockchain technology to revolutionize fantasy sports.
Bailey discussed the benefits of Web 3.0, including the ability to sell playable digital fighters. With their Karate combat partnership, players can buy limited-edition digital fighters that look and feel like the actual fighters in live events. The digital fighters can also be customized with gear that can change the look and give players an advantage in games.
GameOn's cross-chain compatibility and partnership with Hedera were also discussed during the podcast. With blockchain technology, GameOn aims to provide a more engaging and immersive experience for fantasy sports players. By using Web 3.0, GameOn is leading the way in revolutionizing the industry and providing new opportunities for gamers to stay engaged.
Latest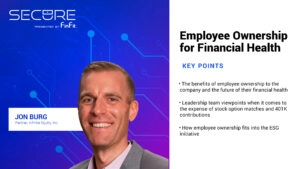 June 8, 2023
Dallas, TX – The newest podcast episode of SECURE by FinFit explores the rising trend of employee stock ownership plans (ESOPs) and how they impact employee behavior and financial resiliency. According to Gallup, 58% of Americans owned some form of stocks in 2022, but only around 4% of the U.S. population participate in ESOPs. However, […]
Read More