Leadership Cradle to Career with Tricia Valasek
Dallas, TX –  Community workforce development initiatives are becoming increasingly important in preparing individuals for the changing nature of the workplace. In the latest episode of FranklinCovey's podcast, Change Starts Here, host Dustin Odham talks with Tricia Valasek, Executive Director of Raise the Bar, about the impact of community workforce development in Hancock County, Ohio.
Valasek emphasizes the importance of lifelong learning and how initiatives like Raise the Bar are connecting individuals with the resources they need to continue developing their skills. She notes that in Hancock County's heavily manufacturing-based community, automation is on the horizon, and diversifying their efforts to include adult workforce development is crucial for staying ahead of the curve.
The conversation also touches on the power of partnerships in driving change. By collaborating with initiatives like Raise the Bar, other communities can make an impact in preparing their workforce for the future.
Valasek's diverse career, focused on helping others, has led her to her role as Executive Director of Raise the Bar. With her continued love for learning, Valasek imparts her unique perspective on the importance of community workforce development initiatives.
For more information on the work the Raise the Bar initiative is doing, visit https://www.raisethebarhancock.org/
To listen to the latest episode and more, tune in to the Change Starts Here podcast presented by FranklinCovey Education on Spotify, Apple, or your preferred podcast platform. For more information, visit https://www.franklincovey.com/.
Latest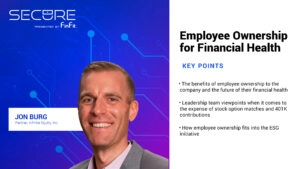 June 8, 2023
Dallas, TX – The newest podcast episode of SECURE by FinFit explores the rising trend of employee stock ownership plans (ESOPs) and how they impact employee behavior and financial resiliency. According to Gallup, 58% of Americans owned some form of stocks in 2022, but only around 4% of the U.S. population participate in ESOPs. However, […]
Read More