Learning that Lasts with Janell Blunt, PhD
Dallas, TX – Educators looking for ways to help their students learn more effectively can benefit from the insights of Dr. Janell Blunt, an associate professor of psychology and learning at a Midwestern university. In a recent episode titled "Learning that Lasts with Janell Blunt," Dr. Blunt discusses her research on the science of learning and memory and shares strategies for improving student performance.
Retrieval practice is a powerful learning strategy that is often overlooked in traditional classroom settings. Encouraging students to actively engage in retrieving information through low-stakes practice can lead to better long-term learning outcomes. "Don't just stop at encoding. Yes, read the text, but now let's do something with it. Actually practice recalling it," says Dr. Blunt.
As an educator, Dr. Blunt believes in paying attention to what works, not just what we think works. With her focus on the science of learning and memory, she offers valuable insights for educators who want to help their students succeed.
About FranklinCovey Education: FranklinCovey Education is a leading provider of educational resources and tools for educators and students alike. With a commitment to innovation and excellence in education, FranklinCovey is dedicated to helping learners achieve their full potential.
Latest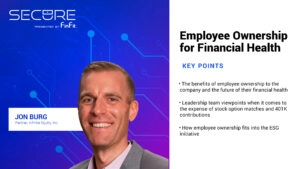 June 8, 2023
Dallas, TX – The newest podcast episode of SECURE by FinFit explores the rising trend of employee stock ownership plans (ESOPs) and how they impact employee behavior and financial resiliency. According to Gallup, 58% of Americans owned some form of stocks in 2022, but only around 4% of the U.S. population participate in ESOPs. However, […]
Read More