School Safety Today: Perspectives from a Former First Responder Now Private School Safety Director with Chris Hendrickson
In the latest episode of School Safety Today, host Michelle Dawn Mooney speaks with Chris Hendrickson of Las Vegas, who served as a responding officer during the Route 91 Harvest Festival massacre in 2017. Reflecting on the experience, Hendrickson notes that better methods can be used to manage a crisis. For instance, if law enforcement had access to information from ticket sales, they could have created a list of attendees, those who left, and those who were missing.
The discussion covers several topics, including how to improve accounting for people during a crisis situation, ensuring safety measures are applied to students at all times, and how everyone can play a part in student safety. Hendrickson, who is now the Director of Safety and Security at The Alexander Dawson School, explains that they have upgraded their security and surveillance systems significantly. They conduct regular drills and provide consistent training for their security staff to prepare for various scenarios.
As a former U.S. Army Squad Leader and police officer, Chris Hendrickson brings extensive experience to the topic of school safety. He received his B.A. from the University of Nevada and is committed to ensuring that schools have the best safety measures in place to protect their students.
Latest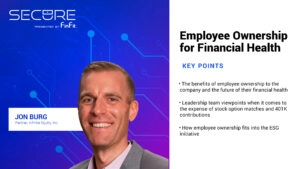 June 8, 2023
Dallas, TX – The newest podcast episode of SECURE by FinFit explores the rising trend of employee stock ownership plans (ESOPs) and how they impact employee behavior and financial resiliency. According to Gallup, 58% of Americans owned some form of stocks in 2022, but only around 4% of the U.S. population participate in ESOPs. However, […]
Read More