Stenograph Announces CATalyst Academy: Training Content Added to Edge for CATalyst Support Plan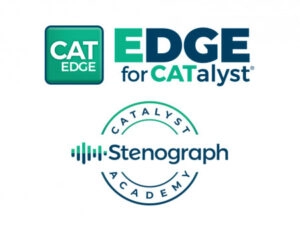 DOWNERS GROVE, Ill., March 15, 2023 (Newswire.com) – Stenograph, LLC, is pleased to announce a new benefit to the Edge for CATalyst support plan, providing recorded training content through our new CATalyst Academy. Edge is Stenograph's support plan for CATalyst that offers users RealTeam™ collaborative editing, priority access to Technical Support, CATalyst software updates, and 100 GB of free Cloud Backup storage. Starting in March 2023 we will be adding access to CATalyst Academy, an extensive and growing library of Webinar Videos and Tips & Tricks Articles, further strengthening this valuable reporter resource.
"In a recent survey, we asked our customers how we could add value to Edge and CATalyst, and one of the top responses was training content. Since then, we have been working hard to get this content to customers so they can benefit from using the already existing features within CATalyst. Through CATalyst Academy, we are very excited to provide this plethora of information where you can find answers to many CATalyst questions at no additional charge," said Mansi Soni, Senior Product Manager of CATalyst and CaseViewNet.
Training is important to our customers, and Stenograph recognized there was the need for recorded training content that customers could access when it was most convenient for them. Through the CATalyst Academy, Edge customers will now be receiving over 150 hours of training content, searchable content guides, and useful articles designed to help them understand how to get the most out of their Stenograph products with more content added each quarter.
"CATalyst is the most functional CAT software in the market, and we want all users to get the most value and benefit from using it," said Dan Denofsky, Vice President of Marketing for Stenograph. "We added CATalyst Academy to the benefits enjoyed by our Edge users so customers can take advantage of all the time-saving benefits of the software. We are proud to add training content to CATalyst Academy and will continue to improve ways to train our customers via Edge, Ascend Training, and training by Certified Training Agents."
For questions contact Dan Denofsky, Vice President of Marketing at Stenograph ddenofsky@stenograph.com. For information on how to purchase Edge for CATalyst, contact sales@stenograph.com.
Latest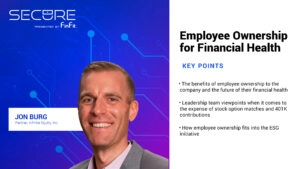 June 8, 2023
Dallas, TX – The newest podcast episode of SECURE by FinFit explores the rising trend of employee stock ownership plans (ESOPs) and how they impact employee behavior and financial resiliency. According to Gallup, 58% of Americans owned some form of stocks in 2022, but only around 4% of the U.S. population participate in ESOPs. However, […]
Read More