Architecture, Engineering and Construction Leaders to Participate in BuildingsNY 2018
BuildingsNY 2018 is just around the corner, and this year's event is shaping up to make a pre-summer splash on May 8 and 9 at the Javits Center in Manhattan. The show features a full product life-cycle solution for safe and cost-effective building operations by integrating exhibitions, free accredited education, partnership opportunities, and networking events.
In a unique effort to bring City Hall to consumers, the New York City Department of Buildings and Finance will be on hand to provide interactive education sessions and a chance to participate in their clinic. Other educational sessions will delve into various topics, such as understanding the conditions of a construction contract, using cloud-based intelligence to meet greenhouse standards, overcoming vacancy issues, and many more!
This year's vendor list represents industry leadership in energy-saving solutions. Some notable exhibitors include Meridian Capital Group, Wirecrafters LLC, and East Coast Lighting, among many others. Attendees will have a chance to vote once a day for the most creative booth design and the best use of innovation. Wining exhibitors will receive $1,000 in credits toward sponsorship options at future shows, as well as PR and social coverage at their booth. Also, every day, one voter will win a $100 American Express gift card.
With over 45,000-square-feet of exhibition floor, a variety of topics, and a wealth of information presented by industry leaders, BuidlingsNY aims to foster growth, share knowledge, and create camaraderie among professionals at every level.
To learn more, visit BuildingsNY online.
Latest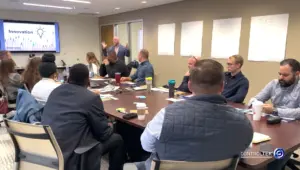 December 4, 2023
The video captures highlights from the CONTROLTEK Design Thinking Workshop specifically tailored for Burlington Stores. It shows interactive sessions, engaging group activities, and innovative brainstorming, emphasizing CONTROLTEK's commitment to developing customized retail solutions in collaboration with the Burlington Stores team.
Read More