Axon and DJI Partner to Improve Law Enforcement
Axon (formerly TASER International), in partnership with DJI, are forming an exclusive partnership to sell DJI drones to law enforcement worldwide through the Axon Air program.
Axon will be combining its expertise in connected law enforcement technology—including its data network and Evidence.com—with DJI's drone and aerial imaging technology to improve the integrity of the drone videos. This will only improve the effectiveness of drones, which are already being used to "improve officer safety, support tactical actions, reconstruct traffic collisions, support public safety at large events and perform search-and-rescue missions."
Axon sees Smart Weapons designed to protect life when at all possible, automated reporting to reduce police paperwork and thus keep police officers on the street, more integrated data systems to ensure connections are made across all levels of law enforcement across the country and around the world, and cameras that ensure objectivity as central to the future of law enforcement and security. Part of this will be integrating these networks with drones and their aerial imaging technology.
DJI produces drones that are used by amateurs and professionals alike, from children to adults. Given the wide variety of users and the large number of groups that discuss DJI drones, it's hard to imagine any scenario that has not been tried. It is going to be the users who will find the best and most interesting ways to use drones because it's users who will find the new situations where drones can be used. Feedback from customers is central to drone development rather than top-down design and application.
Being receptive to the way users actually use technology is central to maintaining one's position as a global leader in technology, including that used by law enforcement. Axon and DJI expect their partnership to save people's lives and improve security and law enforcement service to citizens across the globe.
Latest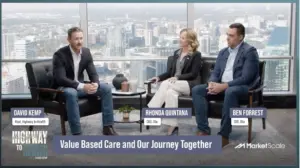 December 7, 2023
As of recent times, the healthcare industry has been progressively shifting towards value-based care, a model that emphasizes patient outcomes over the quantity of services delivered. This transition represents a significant shift that promises to enhance patient experiences and outcomes while controlling healthcare costs. With a growing emphasis on this approach, especially over the […]
Read More