Congressional Budget Allocates Much More Money for Transit
If it's up to Congress, transit projects will receive a significant funding boost in the Congressional spending bill. According to Curbed, "The Community Development Block Grant program, which many local governments have used to fund streetscaping, cycling, and pedestrian-friendly projects, would receive a significant boost, rising to $3.3 billion from the $3 billion allocated in 2017." Further, "the bill includes more money for Capital Investment Grants, which help pay for transit projects, increasing spending from $2.4 to $2.6 billion, and would allocate $1.5 billion for the TIGER Grant program, tripling the $500 million spent on the program in 2017," as well as $540 million to upgrade Amtrak's Northwest Corridor. The budget may even include money for the Gateway Tunnel Project linking New York and New Jersey—with perhaps $30 million of the funds slated for Amtrak.
However, President Trump has threatened to veto any spending bill which would allocate funds to the Gateway Tunnel Project. Trump's initial budget had eliminated the Community Development Block Grant program, and the original $52 billion in transit cuts Trump had proposed would have impacted the Capital Investment Grants and the TIGER Grant programs as well. APTA President and CEO Paul P. Skoutelas said, "the president's proposed cuts would endanger 53 projects in the pipeline across the nation, putting 500,000 jobs at risk, including both general construction and related manufacturing jobs."
Given the considerable differences between Trump's proposals and the actual Congressional spending bill, a veto—and government shutdown—may seem inevitable. With past Republican Presidents, a spending bill from a Republican Congress would have been a sure thing, Trump has shown a willingness, however, to fight almost as much with his own party as with the Democrats. All we can do is wait and see what happens.
Latest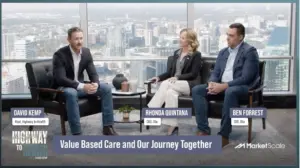 December 7, 2023
As of recent times, the healthcare industry has been progressively shifting towards value-based care, a model that emphasizes patient outcomes over the quantity of services delivered. This transition represents a significant shift that promises to enhance patient experiences and outcomes while controlling healthcare costs. With a growing emphasis on this approach, especially over the […]
Read More