Data Shows Boomers Want Bigger Apartments and Developers Are Answering
Developers are responding to a growing demand from baby boomers looking to transition from homes to rental units. Data recently released from Transwestern shows a push for larger apartment units, especially with three bedrooms, that designers and analysts alike see as the next step for a changing demographic.
Being generally larger than conventional apartments, these "Boomer Units" tend to have larger square footage and more bedrooms that echo traditional floor plans for movers who are looking to downsize but keep things familiar. Kitchens and bathrooms often need upscale flourishes, including wine chillers and saunas. Boomers are looking for luxury amenities like services for pets, exercise classes, dry cleaning, concierge, and more, all in a quieter, more relaxed atmosphere.
The trend is already taking off across the nation, as Transwestern data shows significant upticks in the square footage of apartments built in the last year as compared to the average US apartment. Cities across the US are seeing a rise in demand for three-bedroom apartments in particular, with a 94% occupancy rate and rent growth of +.03% for units of that size. Boomer renters have spoken and developers have answered.
Latest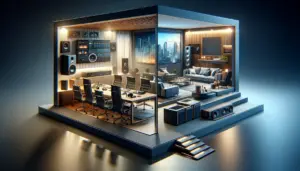 November 27, 2023
In this episode of "Pro AV Today," host Ben Thomas sits down with Audra Kinsley of Sonos Professional to unpack a topic that's causing (sound) waves in the audio industry: the fusion of commercial and residential audio systems. As we navigate through a landscape where consumer and professional audio worlds are increasingly intersecting, Sonos steps […]
Read More