MarketScale AEC 11/15/18: The Science of Cities
This is The MarketScale AEC Show, hosted by Daniel Litwin, the Voice of B2B. Your weekly B2B kick-back for the best thought leadership in the industry, bringing you education, information and inspiration.

Today's episode explores the "science" of cities, both literally and figuratively. From a literal angle, we get a look at the convergence of Healthcare and AEC; Mackenzie Williams, MarketScale Business Development Manager, gives us a recap of 2018's Healthcare Design Conference & Expo. We also pose the question: can city architecture impact your physical and mental health? Don Ruggles, President of Ruggles Mabe Studio, thinks so. He joins us on the podcast to look at the neuroscience behind city-scapes. On the more figurative side of "science," we take a hard look at Houston's zoning laws as well, or lack thereof. How has this affected city layout, and what does it mean for the future of this expanding city? Dr. William Fulton from the Kinder Institute for Urban Research explains.
HCD EXPO 2018 RECAP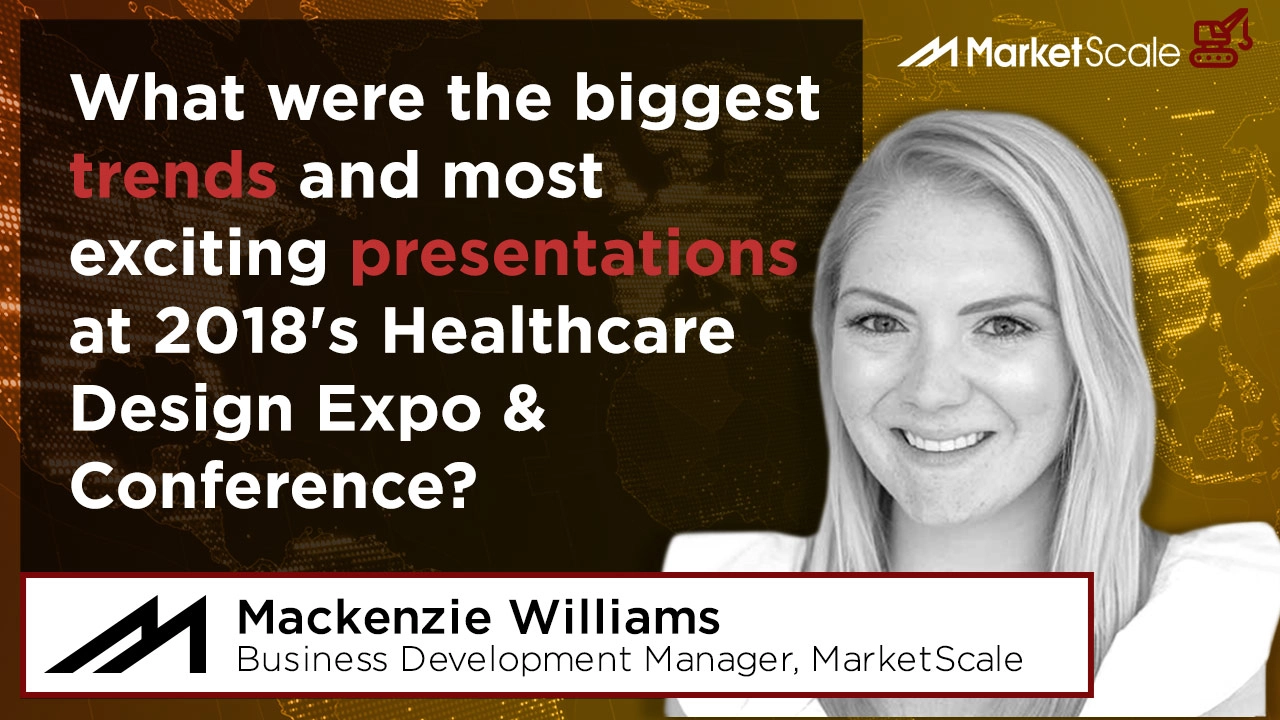 The AEC world is consistently finding innovative ways to merge with other professions including Healthcare, and between November 10-13 in Phoenix, more than 3200 industry professionals came together for the Healthcare Design Expo & Conference, the leading event for the latest and greatest in the worlds of design and well-being. We were lucky enough to send one of MarketScale's own to the conference, Business Development Manager Mackenzie Williams. She gives us a recap of her time at the expo, including some insight into the most fascinating trends in healthcare design like adaptable work-spaces and patient engagement.
HOUSTON'S WILD WEST APPROACH TO ZONING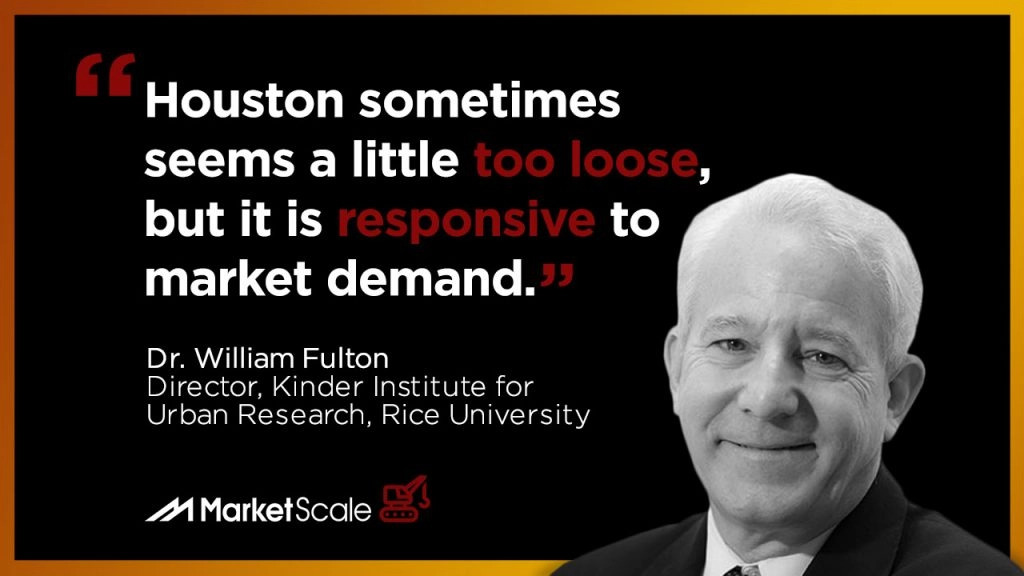 We've heard for years that Houston is the only major American city without zoning restrictions. To what extent is this actually the case and what effect has that had on the way the city has been developed?
Dr. Bill Fulton from the Kinder Institute for Urban Research at Rice University joined the podcast to explain how Houston's approach to zoning has fueled growth, and how that's both positive and negative. "There's a pro and a con to not having zoning in Houston," Fulton said. "The pro is you can experiment and you can do things quickly. And the con is that you can experiment and you can do things quickly."
Having served as the Mayor of Ventura, CA, and now as a resident of Houston, Fulton has the ability to see both sides of the regulation debate. "On the one hand, Houston sometimes seems a little too loose, but it is responsive to market demand," he said. "In a place like San Francisco, where getting a development project approved is an enormous battle…it's very hard for the market to respond to the demand."
THE INTERSECTION OF NEUROSCIENCE AND ARCHITECTURE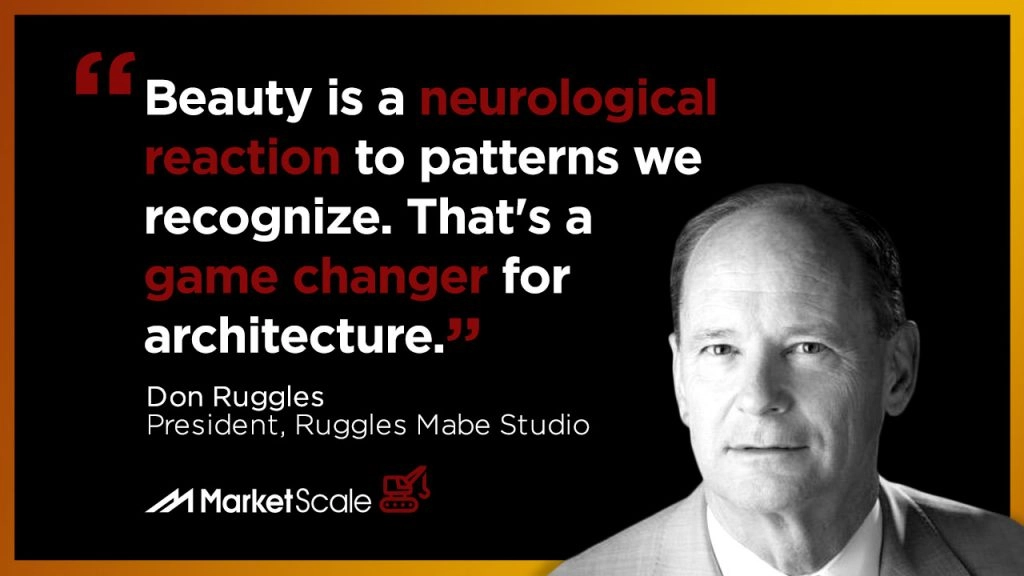 How did we come to recognize some things as beautiful and others as not? It's a question that many have wrestled with over the years. 35 years of asking that question as an architect led Don Ruggles, President of Ruggles Mabe Studio, to dive into the world of neuroscience to find the answer.
"The information coming out of the neuroscience community was pointing to the fact that beauty is actually a neurological reaction to patterns that we recognize," Ruggles said. "That's a game changer for architecture." He makes the case that there are long-established, universal patterns of beauty that human beings innately relate to.
Ruggles takes things a step further into the realm of health, saying that these familiar and beautiful patterns in architecture put our bodies at ease, while unfamiliar patterns cause stress. "Architecture that we don't recognize or that tends to be really aggressive towards us generates this fight or flight response that has a downward pull on our health," he said.
These subconscious reactions to architecture don't just have an effect on our health. Ruggles contends they can also influence how humans spend their money. "Developers should be aware that creating pleasure is actually an equity play," he said. "It's really an important component to understand that if you use the right patterns, people are going to be drawn to your building and they'll want to stay there and they possibly will pay more for it."
OTHER ARTICLES REFERENCED
For the latest news, videos, and podcasts in the AEC Industry, be sure to subscribe to our industry publication.
Follow us on social media for the latest updates in B2B!
Twitter – @AECMKSL
Facebook – facebook.com/marketscale
LinkedIn – linkedin.com/company/marketscale
Latest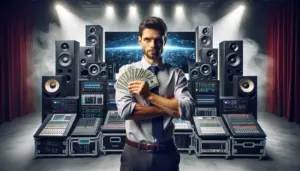 December 8, 2023
Mastering AV sales strategies in a global professional audio-visual (Pro AV) market, poised to reach $79.2 billion by 2028, requires much attention to detail. The surge in demand from corporate, government, and institutional sectors, driven by the need for enhanced productivity and efficient working environments, gives AV sales pros a lot of opportunity. In […]
Read More