MarketScale AEC 11/08/18: Building a Greener Future
On today's episode, we're focusing our features on the mindful, greener future of sustainability and community in AEC, from concrete innovation to sand use to aviation. We'll dig into the possibility of green cement helping curb notorious emissions. We also hear from Eric Peterson, Principal Architect & Head of Aviation for Alliiance, exploring the most exciting trends and the most damaging pitfalls in airport architecture. Finally, we host a podcast panel with Nelson Wills, Vice President of Business Development for Element Designs, and Steven Strickland, Director of Construction Management for FDH Infrastructure Services. The two spark discussion on the disappearance of usable sand in construction, and what the future looks like for sustainable sand use in the industry.
GREEN CEMENT: IS IT VIABLE?
Green concrete. Is it an oxymoron? Industry experts are split.
Concrete does have a notorious reputation for being environmentally taxing. But university scientists in the U.K., and now more recently in Lithuania, have developed new composites of concrete that swap one of its workhorse ingredients, cement, with alternate materials including carbon and even industrial waste.
Could these alternative materials be the first wave of green concrete? Mark Goulthorpe, an Associate Professor at the MIT Department of Architecture, asks a more existential question. "Why concrete at all?"
MANEUVERING THE CHALLENGES OF AIRPORT ARCHITECTURE
What sets a city up for a great first impression? It's not the landmarks, or the people, or the food. Realistically, nothing sets a first impression quite like a city's airports. For visitors, it's the first representation of the culture, style and feel of the community they're about to explore. For residents, it's a hub of travel; a welcoming point of departure to the outside world.
Some of the nation's busiest airports are undergoing renovations, redesigns and upgrades in 2018. New York's LaGuardia Airport is progressing on its $8 billion expansion, Denver International Airport began its terminal renovations, and Salt Lake City International Airport gets the first finished tunnel of its $3.6 billion rebuild.
It's no surprise that these upgrades come at a high price point, and bigger bills means bigger stakes. Take Mexico City, for example. A $13 billion international airport scrapped after a referendum, leaving local architects puzzled and upset. Barring the political nature of the cancellation of the project, it all raises some important questions for AEC professionals. How do you aim to build something permanent and functional that is representative of what the city culture wants and needs, especially when it's a publicly funded project? How do you prepare for the unexpected, when city governments approach you with suggestions, alterations, or cancellations?
We sat down with Eric Peterson, Principal Architect & Head of Aviation for Alliiance, one of the nation's top airport architecture firms, to ask these questions and maneuver around the common pitfalls that come with such large scale, publicly funded construction projects. "One of the things that I think is problematic, is when designers and planners or even airport leaders lose track of what the common good is, and get lost in the aggrandizement of their vision as opposed to the collective vision," Peterson said.
Peterson also analyzes some of the biggest trends in airport architecture that are pushing for more accessibility and more authentic experiences, and how it all encompasses a "cohesive message." "Something that could be around for 50 years in society…there's been a lot of talk around authenticity, the importance of that. And I think in the airport environment and the relationship to a community, that's equally important," Peterson said.
THE FUTURE OF SUSTAINABLE SAND USE
Not to be alarming, but the world is running out of sand. Sand in general isn't going anywhere, but usable sand in construction, production and manufacturing is being used at excessive rates. We use 50 billions tons of it a year, faster than riverbeds can naturally refine rock particulates.
Sand makes up the core of a lot of AEC's more crucial building blocks. It's 75 percent of concrete, and in the last five years, international construction booms in China and India have sped up the industry's use of sand by a quarter. In concrete production specifically, this usable sand is difficult to find and perfect; man-made sand is often coarse and unrefined, desert sand is too fine, and marine sand can be too salty to bond.
It's also the basis of glass, a material touted for its sustainability, efficiency and aesthetic appeal. processing and higher energy requirements. The glass industry has seen major growth over the last decade, including a 10 percent increase in exterior applications such as facades and windows for residential and commercial projects, and a 30 percent increase in interior applications.
Sand use isn't going anywhere, not without a very serious conversation from within the AEC community. How can today's professionals look ahead to protect tomorrow's communities? On today's podcast panel, we spark discussion between Nelson Wills and Steven Strickland to get some insight on preventative, proactive and scientific measures for curbing unsustainable sand use.
Nelson Wills is the Vice President of Business Development for Element Designs, a manufacturing company that creates custom aluminum and glass products for clients across North America. Wills, with over 15 years of industry experience, provides a glass-based perspective on sand use. He breaks down the recyclable measures that can help glass production slow down on its sand use, as well encourages conversations that re-frame the industry's self-imposed limitations.
Steven Strickland is the Director of Construction Management for FDH Infrastructure Services which designs, optimizes and maintains broadcasting and telecommunication infrastructure. Strickland, an industry veteran of 13 years, gives insight into American concrete production, the best kinds of sand for certain projects, and his takes on the realistic future of sand use.
OTHER ARTICLES REFERENCED
For the latest news, videos, and podcasts in the AEC Industry, be sure to subscribe to our industry publication.
Follow us on social media for the latest updates in B2B!
Twitter – @AECMKSL
Facebook – facebook.com/marketscale
LinkedIn – linkedin.com/company/marketscale
Latest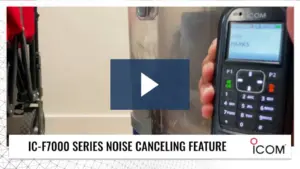 September 27, 2023
In this brief product demonstration video, ICom's IC-F7000 Series receives a mic test of its noise-canceling feature. Through the two demonstrations it is clear the IC-F7000 removes loud ambient noise for clear two-way communication.
Read More