Business Casual: Has the Workplace Really Changed Forever in these 5 Ways?
The spread of the novel coronavirus and the COVID-19 pandemic have altered the way we collectively view many aspects of global society, and work is among those aspects being critically examined.
However, as a new normal begins to dawn, how much will the world's workplaces actually change?
On this Business Casual snippet, hosts Daniel Litwin, Tyler Kern and Taylor Bagley explore a recent Forbes piece penned by CIO and Head of Customer Experience, Logitech Massimo Rapparini, who posits that these five key changes will come to the modern workplace:
–       A Smaller, Hybrid Office Space
–       Blurring of the Line Between Home Offices and Traditional Workspaces
–       A Rise in Virtual Events
–       Greater Recruitment Diversity
–       Better Work-Life Balance
Is he right? Explore alongside Litwin to walk through each of these key areas and determine whether the post-pandemic landscape will be this drastically altered.
Tune into the Business Casual podcast each Wednesday and Friday to stay abreast of the recent trends and hottest topics impacting B2B. And, be sure to check out MarketScale's industry pages for the latest thought leadership, news and event coverage across B2B.
Follow us on social media for the latest updates in B2B!
Twitter – @MarketScale
Facebook – facebook.com/marketscale
LinkedIn – linkedin.com/company/marketscale
Latest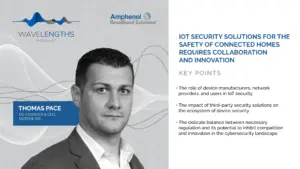 November 28, 2023
Since the introduction of smart devices, the world has increasingly become dominated by interconnected devices but IoT securitydemands are also growing. The "connected home" has shifted from what was once a futuristic concept to reality. With the global smart home market projected to reach $135.3 billion by 2025, the conversation around the security of these […]
Read More