Brewing up Beverage Equipment Maintenance Solutions (Part 2 of 2)
Kelly Fitzroy, Director of Operations for Vixxo's Coffee Brew & Grind Division, and Luc Poirier, Sr. Director of Enterprise Performance with Vixxo, continued their conversation on beverage equipment maintenance as part of a holistic facilities maintenance program strategy. This episode is the second part of a two-part discussion.
With facilities' budgets tightened and various pandemic hurdles to contend with, there are plenty of challenges to go around. So, how are convenience stores and QSRs managing?
Poirier said maintenance frequency is one consideration they've looked at for cost savings.
"Can this be done without affecting the lifespan of that asset?" Poirier said. Fewer maintenance visits but larger work scopes are a potential solution. On the flip side, the stores now have to take additional care of that equipment during the interim period between maintenance visits.
Fitzroy said stores are looking into many cost-saving options to maintain revenues during the pandemic. One such option is shifting the PM (Primary Maintenance) schedule time. Stores cannot afford to have a beverage machine down for maintenance during hours when customers want to purchase drinks. Many stores are opting to have maintenance performed late at night or when the store is closed.
Preventative maintenance is an essential ingredient in facilities to keep machines running efficiently and effectively.
"Preventive maintenance should be something that is known weeks or months in advance," Poirier said. "It's all about planning; it's all about scheduling, it's all about having enough time to develop roots to maximize your technicians and to make sure they have time to do the quality PMs that they need to."
"It's about the number of assets and different variety of machines that you have that will be really difficult to tackle on your own," Fitzroy added. Specialized knowledge companies like Vixxo can guide folks through that preplanning process.
Follow us on social media for the latest updates in B2B!
Twitter – @MarketScale
Facebook – facebook.com/marketscale
LinkedIn – linkedin.com/company/marketscale
Latest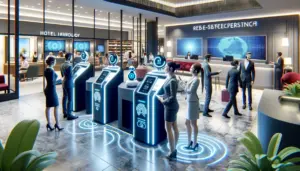 December 8, 2023
Facing critical staffing shortages, over 80% of hotels struggle to fill positions despite offering higher wages and flexible hours, as reported by a recent American Hotel & Lodging Association survey. While slightly improved since May 2022, this situation highlights a significant challenge in the hospitality industry, with housekeeping roles being the most urgently needed. […]
Read More