North Texas Facilities Expo 2019: What to Watch For
The North Texas Facilities Expo is held at the esports Stadium Arlington & Expo Center on Sept. 25 & 26, 2019. MarketScale will be at the event and have a few recommendations for things to watch for at the show.
1. The Story of a Green Building (Wednesday, Sept. 25 2:10 p.m. – 2:40 p.m.)
The Story of a Green Building is a case history film, produced by the National Building Museum, which documents the green team that created the impressive green building PNC Place in Washington, D.C., the headquarters of PNC Bank. Among the interesting building features are: three-story water walls in the lobby, temperature sensors in concrete, vegetative walls inside the building, daylighting, green plumbing, and highly efficient cooling and ventilation systems.
2. What Facility Managers Need to Know About Business Continuity (Thursday, Sept. 26 9:50 a.m. – 10:50 a.m.)
This session will center around business continuity planning and will include scenarios focused on the loss of people, technology, third parties, and facilities. The speaker will provide recommendations on developing and executing business continuity plans, as well as provide insight on what business continuity expectations your organization may have on your role as a facility manager during a significant business disruption.
3. Globe Life Field, the New Home of the Texas Rangers – a Behind-the-Scenes Look at This Impressive Stadium (Wednesday Sept. 25 9:50 a.m. – 10:50 a.m.)
All sports fans are excited about the under-construction Globe Life Field in Arlington, which will be the new home of the Texas Rangers upon opening in March of 2020. But facilities engineers will be especially interested to hear about the features of the impressive new stadium. This presentation will provide a behind-the-scenes look at what will make the 40,000-seat-capacity Globe Life Field an important stadium.
Topics will include the stadium's retractable roof – which will close during inclement or excessively hot weather – the roof features clear roof panels to allow natural light into the ballpark when the roof is closed. The session will also explain the air-conditioning system that will be operational when the roof is closed; the use of Texas materials of construction in the project; the synthetic turf on the field; and other interesting design and operational information.
*Some contributions to this article were made by the North Texas Facilities Expo official website
---
Stay tuned to MarketScale for reports from NTFE! To see our coverage, or any MarketScale original content, subscribe to our newsletter on the right-hand side of this page!
Latest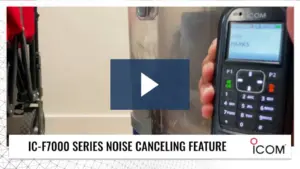 September 27, 2023
In this brief product demonstration video, ICom's IC-F7000 Series receives a mic test of its noise-canceling feature. Through the two demonstrations it is clear the IC-F7000 removes loud ambient noise for clear two-way communication.
Read More