Cushioning the Blow: How SmartCells Brings Comfort to the Workplace
From manufacturing to the ticket counter, and from the coast guard to the operating room, any work environment where standing is an essential part of the job, anything that can provide comfort can make a big difference in employee morale. Chad Lindstrom, VP of Marketing for SmartCells, knows the importance of reducing pain in the workplace. It's something SmartCells incorporates into all its cushioning technology. Lindstrom expanded on the full range of industries experiencing the benefits of SmartCells' solutions.
"The industries we typically see the most activity in terms of the biggest need are industrial manufacturing in areas where people stand all day," Lindstrom said. "We work a lot with distribution centers. In the healthcare industry, we do a lot of pharmaceutical applications, blood-draw labs. We do a lot of government military for the department of defense. We also work with the aviation industry. Think ticket counters and baggage areas."
But with all of these different industries, is it a one-mat-comforts-all strategy, or are there different considerations that go into which SmartCells' solution makes sense for a particular business or application? "It's a consultative process," Lindstrom said. "We want to make sure businesses aren't changing their infrastructure or set up to fit with us. We want to make it seamless to fit right into whatever our customer has going. It's a learning process. We want to learn the business, what they're doing, where the pain points are, where the employees currently stand, what the work area looks like, and what the work conditions are." Lindstrom said it's critical to understand these factors so SmartCells can meet the customer's needs.
Be sure to subscribe to our industry publication for the latest news, videos, and podcasts in the Building Management Industry.
Follow us on social media for the latest updates in B2B!
Twitter – @MarketScale
Facebook – facebook.com/marketscale
LinkedIn – linkedin.com/company/marketscale
Latest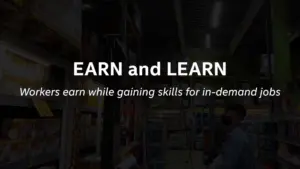 November 30, 2023
Faced with a significant workforce training gap, America is seeing a rise in innovative solutions, notably the earn and learn programs. These initiatives are pivotal in addressing the disconnect between available jobs and the skills of the workforce, particularly benefiting those without a four-year college degree. SkillPointe emerges as a key player in this […]
Read More