Record Summer Heat and Fire Disasters Put Modern Egress Solutions, Building Codes and Fire Safety Into Focus
In recent years, the frequency and intensity of wildfires and home fires have surged, spotlighting the need for updated building codes, fire safety, and egress solutions. The tragic wildfire in Lahaina, Hawaii, which claimed 115 lives, and the alarming statistics from the NFPA's "Home Structure Fires" report underscore the urgency of this issue. With modern construction techniques proving pivotal in safeguarding structures and older designs revealing vulnerabilities, the time for action is now. As temperatures soar and August witnessing record-breaking heatwaves, climate change and outdated building designs exacerbates the risk, making the conversation on building codes, fire safety, and egress solutions more critical than ever.
But with all these alarming statistics and tragic events, a pressing question emerges: How can builders integrate modern construction techniques, stringent building codes, and innovative egress solutions to create safer living spaces and mitigate the devastating impacts of fires?
On this MarketScale interview hosted by Daniel Litwin, the Voice of B2B, he and his guests Aaron and Barry Mezei, the Founders of Safer Escape, and Met Pizzoka, the Owner and General Contractor of Signum Enterprise, explore the pressing issues of building codes, fire safety, and egress solutions that are shaping the future of construction and safety.
Their engaging conversation includes the following:
A look at the increasing demand for egress solutions amidst rising global temperatures and the subsequent fire risks
The role of modern building codes in ensuring fire safety and the challenges posed by older structures
Innovative egress solutions offered by companies like Safer Escape which have seen a surge in demand due to the growing emphasis on fire safety
A visionary in fire safety, Aaron Mezei co-founded Safer Escape with a mission to revolutionize egress solutions in the construction industry. With a keen understanding of the challenges posed by modern fire risks, Aaron has been instrumental in developing innovative products that prioritize safety without compromising on design. His dedication to the cause is evident in Safer Escape's rapid growth and the increasing demand for solutions.
Barry Mezei, co-founder of Safer Escape, brings a unique blend of expertise. Apart from his role in Safer Escape, Barry's background as a corporate real estate professional offers a holistic perspective on integrating fire safety measures in residential and commercial spaces. His insights into the real estate market and his passion for safety make him a valuable voice in discussions about modern building codes and fire safety.
Owner and General Contractor with Signum Enterprise, Met Pizzoka is a seasoned professional in the construction industry. His hands-on experience installing and maintaining various safety solutions, including Safer Escape's egress solutions, provides a practical perspective on the challenges and opportunities in the field. Met's commitment to ensuring the highest safety standards in all his projects aligns seamlessly with the goals of Safer Escape, making him a key collaborator in the mission to enhance fire safety in buildings.
Article written by James Kent.
Latest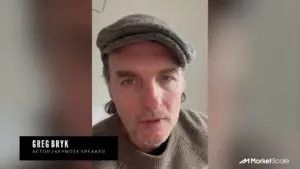 November 30, 2023
In a crowded marketplace, authenticity could be the strongest differentiator in standing out from the competition. Actor and Keynote Speaker Greg Bryk shares his insights on making a mark, on-screen and in the B2B arena. Bryk emphasizes the power of authenticity over pandering to the audience. He explains, "The way to stick out from […]
Read More