OT Cybersecurity is Still a Black Hole for Facility Managers
A confident cybersecurity strategy for facility managers is still out of reach. Even though most facilities have a grasp on IT networks, a steady increase of IoT connections in commercial buildings is creating confusion and opacity in OT strategies. This increase in devices shows no signs of slowing, either; Statista forecasts new smart building connections in the billions by 2025.
This disconnect between cybersecurity and OT networks isn't a surprise for facility managers, either, though a solution still isn't clear. A Honeywell survey from late summer found facility managers in the US, Germany, and China share concerns around OT cybersecurity, with only 44% of respondents signaling they have an OT security solution in place, and only 33% planning to invest in one in the next year.
Why is OT network security still such an afterthought for facilities? Is a more confident OT strategy the responsibility of the facility or the vendor? Jeff Ewing, VP of Operations for the Cyber team at 5Q, a commercial real estate technology and cybersecurity company, gave his perspective on this disconnect and how to build a more thoughtful and sustainable OT security approach.
More Stories Similar To This:
With things opening back up and live events back in gear, MarketScale sent Adam Mills to this year's Building Owners and Managers Association (BOMA) International, which has been the leading trade association for commercial real estate professionals for more than 100 years. This year the energy was high because everyone was excited to be back in person! Hilary Kennedy sat down with Adam to cover what stood out to him and how sustainability was a big theme among the exhibitors.
Improving a building's carbon footprint helps on multiple fronts. It saves money by reducing energy needs, helps the environment, and allows the building to maintain consistent power during electrical grid uncertainties. So what can building owners and companies do to improve their building's carbon footprint?
Latest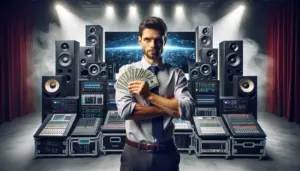 December 8, 2023
Mastering AV sales strategies in a global professional audio-visual (Pro AV) market, poised to reach $79.2 billion by 2028, requires much attention to detail. The surge in demand from corporate, government, and institutional sectors, driven by the need for enhanced productivity and efficient working environments, gives AV sales pros a lot of opportunity. In […]
Read More