P&G Cleaning Products Boom as COVID Sanitization Continues
Many industries are more optimistic about their sales going into 2021, and it looks like this is panning out for the broader sanitization and cleaning products market. In particular, one company is feeling the boost to its bottom line, as reporting out of Reuters asserts that Procter & Gamble, with a wide array of home and personal care products, has boosted its 2021 sales forecast for a second time.
Its growth forecast is now estimated to be 5-6% instead of just 3-4%. Last year, P&G reported a 9% rise in net sales during Q1 and an 8% rise in Q2, and the company expects this steady growth to continue as the pandemic and its new strains continue and consumers lean on more stringent cleaning measures, even with vaccination on the horizon.
Here are some numbers to contextualize this growth; P&G said U.S. consumers were cleaning and sanitizing 30% more than pre-pandemic and that there has been a 30% rise in organic sales of homecare products during Q2. Further, dishwasher cycles and air fresheners were up 15 and 20%, respectively, and paper towel usage went up 15%.
To get insights on what this sales growth could mean for the facilities and cleaning products industries, host Daniel Litwin was joined for this MarketScale Industry Update by John Shanahan, President and CEO of Ionogen, a hypochlorous sanitizing solutions company.
Follow us on social media for the latest updates in B2B!
Twitter – @MarketScale
Facebook – facebook.com/marketscale
LinkedIn – linkedin.com/company/marketscale
Latest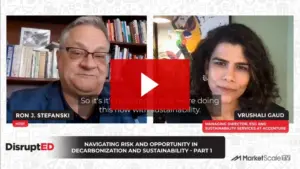 September 26, 2023
The global conversation has shifted dramatically towards decarbonization and sustainability in recent years. With the world experiencing unprecedented levels of disruption, from 5G technology to the challenges of a pandemic, the urgency to address climate change and its implications has never been more palpable. Although most business leaders see the vision of Sustainable Development […]
Read More