AirIQ: How Whole House Fans Keep People Cool While Cutting Costs
When it comes to keeping cool this summer, many people will reluctantly turn on a costly A/C unit. But smart homeowners will activate their whole house fan, designed to lower temperatures within a living space at a fraction of the cost of mechanical cooling.
On today's episode of AirIQ, Tim Barton, director of ventilation & west regional sales at Field Controls, shared his insights on whole house fans that are gaining popularity with building owners.
So how does it work? It's quite simple – "The driving element is air, bringing it into the house and exiting out the attic," Barton said. As the air moves across the body, it evaporates moisture on the skin to deliver a pleasant sensation.
Barton counts three benefits to the system: a low initial cost, utility savings, and increased personal comfort. Today's models are quiet and aesthetically pleasing, making them great for building owners and occupants seeking a cool environment without the use of artificial air conditioning.
While high humidity areas are not ideally suited for a whole house fan, certain places like California and areas of Colorado that have enacted strict building efficiency codes encourage these energy saving installations.
Maintenance is simple compared to other mechanical systems. Barton assures that as long as the motor is operating, you just need to keep the easily accessible grill clean and you're good to go.
Feedback so far has been remarkable among customers who've installed a unit, which can be outfitted with timers and even WiFi connectivity for remote operation. "The system is simple, and it just works. I have yet to find anybody that was unsatisfied."
For the latest news, videos, and podcasts in the Building Management Industry, be sure to subscribe to our industry publication.
Follow us on social media for the latest updates in B2B!
Twitter – @BuildingMKSL
Facebook – facebook.com/marketscale
LinkedIn – linkedin.com/company/marketscale
Latest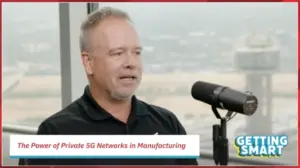 September 25, 2023
The Convergence of 5G and Automation in Manufacturing: A New Industrial Revolution The manufacturing industry stands at an inflection point. Advances in 5G technology and automation are coming together to transform the way products are made, and the role that humans and machines play in this process. Per Treven, Director of Business Development at Ericsson, […]
Read More