As Google Cancels its Banking Plans, Why Has Big Tech Struggled in the FinTech Arena?
Key Points:
Google Pay cancels its digital banking service Plex after internal disruptions.
Ranking third amongst mobile payment players, Google Pay boasts around 25 million users in 2021.
If even Google couldn't make a dent, how should companies disrupt the digital banking space?
Commentary:
Google Pay has had a tough year, with the departure of dozens of employees from the division and its revamp into a full personal finance service platform facing mixed reviews. It can now add a dead app to that list. Google's plan for a digital banking service and the standardization of Google Bank Accounts is now cancelled, as the company puts an end to its Plex service.
The vision for Plex was supposed to a mobile first banking app with a physical ecosystem of credit and debit cards, and a leveraging of the Google ecosystem and UI to make for an innovative visual, responsive, and integrated banking service. The 400,000 people on Plex's waitlist will stay waiting. As the service moves into the past, we wanted to ask: What went wrong? Why have private companies outside of fintech struggled to disrupt and democratize banking? And where should disruptors place their focus to enhance and simplify the experience of personal finance?
David Shipper, Senior Strategic Advisor for the Retail Banking & Payments practice at Aite-Novarica Group, pulled from his experience surrounding the financial ecosystem of debit, credit, and prepaid cards to give a detailed analysis.
Abridged Thoughts:
So Google scrapping plans to offer a checking account or deposit account directly to consumers actually makes a lot of sense. It's a very competitive market and you'll see we already see many players, tech companies or startup card programs or new online only accounts.
Many players are coming into this market and many of them are struggling to gain and retain accounts. And I would say really, there's two main issues two main hurdles that are very difficult for these new players to overcome.
One is competing with a brick and mortar location is consumers will tell you often that they want the most innovative product. They want the absolute coolest, best account or card or rewards program that's available. But at the end of the day, they also want to be able to visit their local bank or use an ATM without a fee or open in other types of accounts and sit down with someone. Those those benefits of having physical location nearby are very difficult to offset with an online only account.
The other hurdle that you'll see for anyone, whether it's Google or any other company attempting or wanting to sell a financial product, is that that movement or that action by the consumer to move their direct deposit, moving the direct deposit, moving bill, pay billers, making those kind of transitions? That's a very difficult hurdle to get a consumer to do and consumers have to actually work for that.
Latest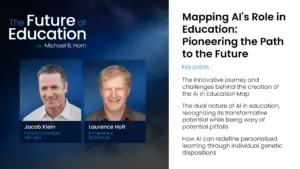 October 2, 2023
Mapping AI's role in education should be a critical step in bringing together innovative technology-based solutions with the expertise of human educators. With rapid advancements in artificial intelligence and an increased reliance on technology-driven educational solutions, the education landscape is on the brink of a significant transformation. AI promises highly personalized learning experiences, efficient administrative […]
Read More