Atomic Habits in Review: Making Changes that Stick
In a world where quick fixes are often sought after, it becomes essential to examine the foundations of our habits and how they affect our lives. Why now? Because amidst the fast-paced modern lifestyle, taking the time to refine and better ourselves can have profound impacts on our overall wellbeing. According to a study published in the European Journal of Social Psychology, it takes on average 66 days to form a habit. But what if we could accelerate this process and make our habits more effective?
What if we could find ways to make our habits stick and truly foster lasting changes? This is the core question we're exploring in this episode of "Change Starts Here."
In this podcast episode, hosted by Dustin Odham, Managing Director at FranklinCovey Education, we delve into the insights from one of the most recommended books by guests of our show, "Atomic Habits." Odham shares his personal journey of using the principles from the book and two key takeaways that made a significant impact on his life.
Here are the key points of conversation from the episode:
The inside-out philosophy: The idea of working on your identity and how it impacts the formation and sustainability of your habits.
The concept of getting 1% better every day: A perspective that suggests focusing on small, consistent improvements can lead to significant changes over time.
The role of systems in achieving goals: A shift from setting lofty goals to focusing on creating effective systems that bring about the desired outcomes.
Our host, Dustin Odham, has a rich background in education and leadership. He's the Managing Director at FranklinCovey Education and the host of the "Change Starts Here" podcast. Known for his engaging and thoughtful conversations, Odham uses his platform to explore the many ways individuals can instigate positive change.
Latest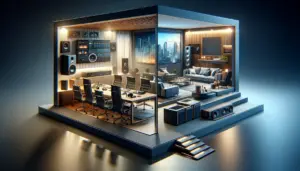 November 27, 2023
In this episode of "Pro AV Today," host Ben Thomas sits down with Audra Kinsley of Sonos Professional to unpack a topic that's causing (sound) waves in the audio industry: the fusion of commercial and residential audio systems. As we navigate through a landscape where consumer and professional audio worlds are increasingly intersecting, Sonos steps […]
Read More