Bruce Bolt Batting Gloves: How a Teenaged Entrepreneur Created a Gold Glove Standard in Baseball Through Quality and Community
Baseball is experiencing a revolution in the form of a new player in the market, Bruce Bolt, batting gloves. These gloves, created by a young entrepreneur, have taken the baseball world by storm, with top players in Major League Baseball sporting them on the field. Making waves in the baseball batting glove market is no small feat. Players treasure their gloves so much that they'll send them out for repairs rather than get a new pair.
And while no one is saying Baseball players are known for their superstitions, when New York Yankees' Harrison Bader started hitting home runs, players took note of his Bruce Bolt batting gloves.
So, what makes Bruce Bolt batting gloves stand out in a market dominated by established brands? How did a young high-school entrepreneur break into this competitive industry, create a product used by top Major League Baseball players, and develop a loyal community and devoted social influencers?
Welcome to Tuesdays with Morrisey, where host Adam Morrisey peeks into the fascinating world of sports and entrepreneurship. Bear Mayer, Founder and CEO of Bruce Bolt, and Gard Mayer, Co-Founder of Bruce Bolt, joined Morrisey to provide an inside look at the journey of Bruce Bolt from its inception to becoming one of the hottest apparel brands in baseball.
Key points of discussion include:
The inspiration behind Bruce Bolt and the challenges faced in the early stages of the business
The impact of social media and digital marketing on the growth and success of Bruce Bolt batting gloves
The plans for Bruce Bolt and its vision to revolutionize the baseball industry
Bear Mayer, a former Texas Tech student, is the driving force behind Bruce Bolt. Despite juggling academics and entrepreneurship challenges, Bear focused on his passion for baseball and entrepreneurship, leading to the creation of Bruce Bolt while still a high school student. Bear's dedication and innovative approach have played a crucial role in the success of Bruce Bolt. Gard Mayer, with his background in internet marketing, brings a wealth of experience and expertise to the table, contributing to the strategic growth and development of Bruce Bolt. Together, father and son have created a brand loved by players and contributes to enhancing their performance on the field.
Latest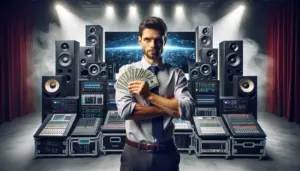 December 8, 2023
Mastering AV sales strategies in a global professional audio-visual (Pro AV) market, poised to reach $79.2 billion by 2028, requires much attention to detail. The surge in demand from corporate, government, and institutional sectors, driven by the need for enhanced productivity and efficient working environments, gives AV sales pros a lot of opportunity. In […]
Read More