Championing Frontline Staff Will Bolster Productivity in the Security Industry
The security industry faces challenges in garnering the same level of respect and recognition as other professions. While other countries have seen successes in elevating the status of their security sectors, and see security teams on equal footing as law enforcement, unfortunately, this isn't the case in America.
North America in particular grapples with waning attention and respect for the field. Yet, the jobs of security professionals, especially post-COVID, are just as pressing and they are some of the first people on the scene in emergency cases. The Canadian Security Lifesaver Association is an organization striving to change the narrative. Such initiatives highlight the industry's value and aim to attract committed individuals eager to make a difference.
One of the notable voices on this issue is David Sulston, an esteemed figure in the security industry with more than 35 years of experience. Sulston is a board member of the Canadian Security Lifesaver Association. He discussed the importance of recognition of frontline staff in the security industry at GSX 2023 during his learning session "Recognition for Retention", and why championing successes will build productive teams.
Sulston's Thoughts on the Security Industry
Recognition and Status of the Security Industry
"We're looking at different countries, like for instance in Denmark and Norway, where the security industry is actually looked at at the same level as police officers and school teachers. We want to convert to that same type of recognition for the industry as they do in those countries. As part of the board member for the Canadian Security Lifesaver Association, we're actually recognizing our frontline staff that save lives of individuals on a daily basis. I'm presenting with Jody Reid from Calgary and Steve Hoffman from Vancouver, and we're talking about recognition for retention."
Challenges and Changes in the Security Industry
"We're going through a bellwether change right now with relation to the security industry. What everyone finds, and I think it's throughout North America if not farther, that we're not getting the folks that we would usually have traditionally. The attention isn't there, the respect for the industry isn't there, and what we're trying to do is to educate the public and larger audiences on how we would retain people, some strategies to bolster the reputation of the industry as a whole, and to make it something that someone would aspire to go through."
Spotlighting Heroic Acts in the Industry
"They're nominated, they come through to our board and we vote on the best of, the best stories, absolutely incredible stories that we've seen. And it's actually a small view into a larger world where we're seeing post-COVID world where we see suicide attempt resuscitations, heart attack resuscitations, naloxone resuscitations from opioid overdoses. So we actually, we're seeing what happens in the real world in the city."
Security Industry's Significance and Potential Partnerships
"If you look at, from the Hull Crest report, the private security industry, from a guarding perspective, outnumbers police forces 4 to 1 at this point. And, you know, I've talked to police leaders and they have the same issues. They can't get good, qualified staff. There's been all sorts of movement on defund the police, which, you know, when you're looking at the downtown course in every city across North America, we're seeing serious social degradation. They need assistance. And you know what? We need to assist with that as well. And we can. We can partner and we can collaborate to do that."
Advocacy and Technological Advancements in Security
"Listen, the Canadian Security Lifesaver Association is an effective tool that we can leverage. And I'd love to see it broaden more, like right across North America, quite frankly. But we started as a pilot about three years ago, right in the middle of COVID. And it's really grown and seen that. This GSX show is something fabulous because we have built a harness technology that we never had before. If we don't have enough people that are joining the industry, we can augment it and we can leverage the technology that we have right now to still achieve the same purposes to protect assets."
Article written by Alexandra Simon.
Latest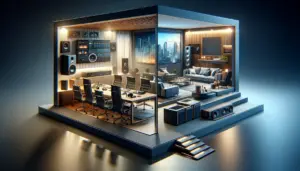 November 27, 2023
In this episode of "Pro AV Today," host Ben Thomas sits down with Audra Kinsley of Sonos Professional to unpack a topic that's causing (sound) waves in the audio industry: the fusion of commercial and residential audio systems. As we navigate through a landscape where consumer and professional audio worlds are increasingly intersecting, Sonos steps […]
Read More