Digital Pays Out for The New York Times While Print Journalism Flounders: Business Casual
With writers laid off, publications not going to print, and thousands of media professionals furloughed, the world of print media experienced drastic cutbacks as a result of the pandemic. But The New York Times, other than its several lay-offs and furloughs, has somehow remained insulated to the economic effects of the global pandemic as an institution. In fact, the paper gained digital subscribers and now relies more on revenue from digital subscribers than print.
Powered by RedCircle
Business Casual hosts Daniel Litwin and Tyler Kern take a look at the numbers and consider how the Times saw growth while their marketing budget saw cuts. The world of media and journalism is changing, and distinguished, historic papers like The Times are finding success with pay-walled content. Will print and digital news media continue to peacefully co-exist in the future of news media?
Latest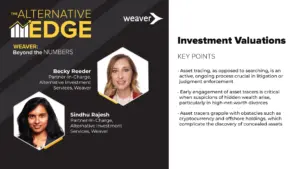 December 4, 2023
In this episode of The Alternative Edge, a Weaver: Beyond the Numbers Podcast, host Becky Reeder, an audit partner and co-leader of the alternative investments practice at Weaver, engages with Sindhu Rajesh, an Alternative Investment Services Partner with Weaver. They unpack the complexities of venture fund valuations, offering critical insights into industry dynamics and best […]
Read More