Finding the Intersection Between Data, Technology, and Sports

Data science and analytics play an ever-increasing and critical role in sports creating an intersection between data and sports. From making some sports safer, to understanding the performance and tactics of opposing teams, and individual player analysis and scouting, there's hardly an area of sports today that doesn't intersect in some way with technology and data.
So, how do all the puzzle pieces fit? That was the burning question on Adam Morrisey's mind. For answers, he sought out a rising sports analytics guru, John Sears. Over a relatively short period, John has made his mark in quantitative analysis, working for HBO's streaming platform, a nearly three-year stint in predictive analytics at Uber, heading quantitative strategy for the Minnesota Timberwolves, and currently serving as a Special Advisor for the Los Angeles Dodgers.
Sears joined Morrisey for a lively discussion on Tuesdays with Morrisey on connecting those dots to bring today's sports into strategic view. And strategy starts with oneself; as Sears said, much thought goes into the decision process behind the positions he takes and the value he can bring to an organization. Often, those decisions went beyond salary.
"You can't just straight-line every salary for the rest of your life," Sears said. "It's the experience. There's so much more to it than my earnings over the next two years."
Morrisey and Sears discuss the intersection between data further…
● The sports industry's evolving approach to the role of data
● Breaking down data and looking for the proper signal to predict performance
● How evaluating data is different depending on the sport
● Upcoming data analytics technology
"These last two or three years, there's this massive wave of what they call generative models of AI," Sears said. "For example, I still spend a few hours daily writing and looking at code. And I'll have a text editor with a plugin called code pilot. It suggests big chunks of code by guessing what I'm trying to do based on how I start writing. It's eliminated most of the tedious aspects of writing code."
Uber, The Minnesota Timberwolves, KeepTruckin, and the Los Angeles Dodgers are a few big-name organizations John Sears has worked for since graduating Magna Cum Laude from Carleton College in 2009. Sears earned his MS from Stanford University in 2015; He is a quantitative analysis force of nature.
Latest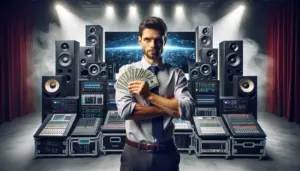 December 8, 2023
Mastering AV sales strategies in a global professional audio-visual (Pro AV) market, poised to reach $79.2 billion by 2028, requires much attention to detail. The surge in demand from corporate, government, and institutional sectors, driven by the need for enhanced productivity and efficient working environments, gives AV sales pros a lot of opportunity. In […]
Read More