IMF Says Crypto Isn't Fit to Become Legal Tender; Are They Right or Wrong?
The International Monetary Fund has taken a bold stand regarding crypto, the increasingly popular alternative currency — it's not fit to become legal tender or official national currency, coming off the heels of El Salvador's bitcoin announcement.
What does this mean for the currency's future, and does the IMF's background in Latin America add needed context to their announcement?
Let's Hash It Out.
This opinion came in the context of a blog post titled "Cryptoassets as National Currency? A Step Too Far," written by Director of the IMF's Monetary and Capital Markets Department Tobias Adrian and Rhoda Weeks-Brown, Director of IMF's Legal Department.
In summary, they said, "as national currency, cryptoassets —including Bitcoin—come with substantial risks to macro-financial stability, financial integrity, consumer protection, and the environment."
The international group argues that there are a variety of reasons that cryptocurrency isn't ideal as a legal tender, including:
Homes & businesses would waste time trying to figure out which kinds of money to hold and deal in
There will be a significant environmental impact of mass crypto mining, as producing fungible tokens requires giving them value by "mining" them on networks of servers
Crypto could lead to more exposure to fraud
Though clearly coming from a certain side of the issue, it's true that monetary policy like that implemented by the IMF would lose bite, as central banks cannot set interest rates on a foreign currency
This blog post to date would only apply to a handful of countries, mainly El Salvador, which made bitcoin legal tender in their US dollarized economy, and Venezuela, which has a state-backed cryptocurrency, the petro, to combat hyperinflation. Hosts Daniel Litwin, Tyler Kern and Taylor Bagley add context on the IMF's history in handing out loans to struggling economies, including El Salvador during the COVID pandemic, and how those loan conditions place austerity politics on struggling economies.
Taking all of those things into consideration, is the future of integrated crypto as bright as it appears — or ready to be derailed? The Hash It Out hosts sit down with guest Mauricio Di Bartolomeo, Co-founder and CSO of Ledn.io, a digital platform that gives cryptocurrency holders access to Bitcoin-backed loans and savings accounts that earn interest, to discuss.
Latest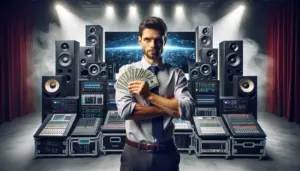 December 8, 2023
Mastering AV sales strategies in a global professional audio-visual (Pro AV) market, poised to reach $79.2 billion by 2028, requires much attention to detail. The surge in demand from corporate, government, and institutional sectors, driven by the need for enhanced productivity and efficient working environments, gives AV sales pros a lot of opportunity. In […]
Read More