Into the Mind of Sales
Salespeople are one of, if not the most important people in any business; no one will know your business, let alone make sales or sell anything to anyone without them. Recruiters are also equally important to any business, as they help match it with the best talents available and help the organization grow.
Many people tend to use sales and recruitment interchangeably, even though they go hand in hand. They even say they are the same thing, but are they really the same? How do these two jobs differ, and how do sales relate to recruitment?
On today's podcast by Catapult Healthcare Solutions, host Gabrielle Bejarano chatted with Tony Williams, Account Executive, Catapult Solutions Group, and Taylor Culbertson, also an Account Executive at Catapult Solutions Group, to shed some light on these questions, talk about and define what sales and recruiters do, and how they can work better together.
"You can't have one without the other—the sales team can't succeed without the recruiters, and vice-versa. You truly need both sides of the business to keep the engine running," Culbertson said.
"They go hand in hand. From a business standpoint, we lean heavily on the recruiting team to find resources for our client and also cover different things going on in the market, such as lead generation, etc.," Williams added.
Bejarano, Williams, and Culbertson discussed:
How recruiting and sales are two different jobs
Major obstacles that come up when it comes to the communication between these two roles
Perspective on reading the lines between resumes
All recruiting is not sales, and all sales is not recruiting; they are two different jobs. Sales is actively going out, finding the business, and actively talking to clients, finding out what the market is on the business side, and not necessarily on the candidate side. Recruiting is about getting talents—asking where they are coming from, where they'd like to go, etc.—and that can be used as intelligence for the sales team.
Bejarano asked Williams and Culbertson to talk about the friction between salespeople and recruiters and how they can communicate effectively:
"It boils down to the communication. If your style is not like your sales partner's, then there can be challenges. You have to figure out who you are working with and what their styles are and not try to mimic them but just meet somewhere in the middle," Williams explained.
"Find who you work best with; there are people you are going to work better with, and the communication styles are going to match. It's easy to get lost in email and virtual meetings. Meet face to face to really gauge what the other person is trying to communicate. Be as transparent as possible from the very beginning," Culbertson added.
Culbertson is the Account Executive for Catapult Solutions Group. Her main job is to bring in more business and provide business development to Catapult. She focuses mainly on the oil and gas and energy sectors and the municipal space.
Williams is the Provider of Solutions along with Connector of Dots at Catapult Solutions Group. He started as a recruiter, transitioned to sales, and now focuses on business development.
Latest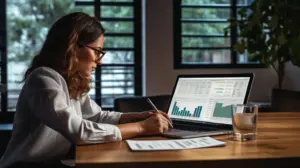 October 4, 2023
The intersection between security and financial acumen often gets overshadowed in a constantly changing economic landscape. While security is essential for safeguarding assets and ensuring continuity, its perceived monetary value is mired in misconceptions affecting company profitability. For many, security is viewed primarily as an expense rather than a potential cost-saver. However, understanding […]
Read More