Legacy Brands Become Modern Communicators
Education is the highest form of marketing. Shannon Maverick sets on out on a quest to speak with business leaders from around B2B to better understand how they are utilizing education with their customers.
When thinking about the most innovative companies around today, we tend to reflect on those that have made the headlines within the last ten years, have recently gone public, have links to Silicon Valley, and so on. But perhaps more extraordinary are those companies that have been around for more than a decade, maybe even ten decades or more. These are companies that have endured major global and national events like the first and second World Wars, the Great Depression, the beginning of air travel, let alone the invention of the television or even the internet. But these companies haven't just muddled along hoping to survive. They are companies that have reinvented themselves multiple times over the years, evolving through acquisitions or other business transformations while leveraging both resilience and a willing to adapt to stay in pace with the burgeoning landscape, the latest technology and ever-changing consumer habits.
One such company is Worthen Industries. Founded in 1866 as a one-product adhesive formulation company, by remaining at the forefront of innovation, branding and marketing, today, the company offers fifteen industry-leading Business Units with worldwide operations employing over 250+ employees while boasting an impressively large portfolio of patents.
On this episode of MarketScale's Maverick of Marketing podcast, Steve Adams, Worthen Industries' Business Manager, sits down with host Shannon Maverick to discuss the company's history, their market-focused, eco-conscious, customer-centric, community-oriented business approach, as well as their extensive experience and diverse capabilities spanning a wide range of Business Units—Adhesive Coated Products, Film Laminating Adhesives, Performance Coated Fabrics, Printable Fabric Solutions, Extruded Films, Staple & Nail Products, and more—in particular, the sector Adams' oversees: the Foam Fabricating Adhesives group, which designs, manufactures and provides adhesive solutions for foam fabricating applications, i.e., the bonding of cushioning materials found in mattress and furniture manufacturing operations.
"We're very diverse, but where I think we were very successful at our marketing approach was by becoming more market-focused and not so scattered in our approach to any particular market." Adams additionally remarked, "We're always looking to provide sustainable innovation. These opportunities come up either through safety issues, environmental issues, process changes within facilities, or new products that are developed in the market that create challenges that need to be addressed. So, the result of all that is we're not just making an industry-leading product—we create solutions that ensure that our customers' processes, their product quality, their efficiency, and very importantly, their environmental practices are optimized."
Follow us on social media for the latest updates in B2B!
Twitter – @MarketScale
Facebook – facebook.com/marketscale
LinkedIn – linkedin.com/company/marketscale
Latest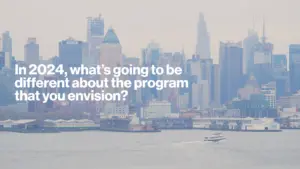 December 1, 2023
In the dynamic telecommunications landscape, Verizon's Partner Network continues to evolve, adapting to new trends and opportunities. For another segment featuring Mark Tina, VP of Indirect Channel Distribution and Channel Chief at Verizon Business Group, he explores exactly what types of significant changes and advancements the Verizon Partner Network will see in 2024. In this […]
Read More