Not Your Father's Data Center: Data Analytics Across Industries
Jonathan Friedmann knew the semiconductor business would find its way into his life someday. Friedmann, CEO & Founder of Speedata, spoke to Raymond Hawkins about his career and his latest venture, Speedata, which provides a state-of-the-art Analytics Processing Unit to optimize big data and analytics workloads.
While data growth is expanding at an exponential rate, processing speeds are lagging behind. Multiple cores on a single chip were a first-step industry solution, data centers were the next. Many data companies utilize clusters of hundreds and thousands of nodes to solve their complex processing needs. Friedmann's Speedata solution offers a different approach.
"Speedata is looking at a workload that is arguably the biggest workload in the data center today, databases and analytics," Friedmann said, "Essentially, you have a database, and multiple industries hold their information in databases, and then they want to extract information from them. And you look at the public clouds; they are giving multiple managed services to handle that. The biggest and most important managed services in the world you find are all databases and analytics."
With the knowledge that big data is a large part of the processing need, Friedmann and Speedata designed a chip to target this specific workload, "Today, 99% of big data is processed by the CPU," Friedmann said. That's a large slice of the pie for Speedata to tap into and lessen the burden, "You look at what's happening in the analytics and databases; the first revolution did not happen yet."
Data isn't just coming from the outside. Computers are generating synthetic data, creating even more need for processing solutions. Friedmann equates what Speedata is doing as acting as plumbers. They're building the tools and making the pipes wider so companies can better extract their data.
Latest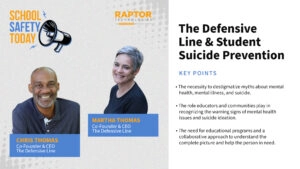 September 22, 2023
Student suicide prevention is a paramount concern among mental health providers. For one organization, student suicide prevention is more than a concern: it's their mission. The alarming rise in mental health crises among youth has become a pressing concern in recent times. With the complexities of modern life and the challenges of the digital […]
Read More