The Security Industry Is Being Shaped By How It Integrates AI, Drones, and Robotics
The integration of emerging technologies such as drones, artificial intelligence-driven video analytics, and robotics is reshaping the landscape of the security industry. These innovations are not just add-ons; they represent a paradigm shift in security applications, necessitating thorough groundwork and stakeholder engagement.
But where exactly do these emerging trends fit in, and where are the gaps that organizations may be facing when it comes to implementation in the security industry? William Plante, Director of Emerging Technologies & Strategic Development at ADT Commercial, gave industry-wide analysis on this very trend during his learning sesson, "Enterprise Best Practices to Evaluate and Adopt Emerging Security Technologies", at the Global Security Exchange (GSX) trade show this year. Plante took some time to chat with MarketScale on how these technologies are being harnessed by the security industry, and the strategies he recommends for their successful implementation.
William's Thoughts:
Emerging Technologies in Security
"The core takeaways are really what we were talking about at the introduction, which is to become reasonably familiar with the emerging technologies that are available today … We used robots, drones, and artificial intelligence-driven video analytics and other systems as examples, but there's certainly a lot more."
Groundwork and Familiarization
"This is a brand new type of security application. And therefore, preparing your workforce, your executive leaders, and some of your specialists like HR, legal, and finance is critical in order for all this to be successful."
Understanding Organizational Pain Points
"One of the takeaways that we had is around pain points that you must understand what your organizational pain points from a security operations perspective are. When you understand that, that begins to drive the trend about which particular technology that you're going to look at. We did a survey, of nine different organizations that are prepared for this. And every one of them said with one exception that they have a chronic problem with guard availability and wallet."
Adoption of Drones and AI
"Looking at drones, every organization we spoke with, is looking at how to use drones in the security operations. The adoption of artificial intelligence and data-driven analytics is huge. There's at least twenty different analytics flavor that are out there now and so everybody that has a video management system is probably at least looking at how to adopt and utilize artificial intelligence."
Robotics and High-Tech Solutions
"… humanoid form factor robots are very attractive to organizations because they solve the guard problem, but also, they have this sense of being a little bit more high-tech, a little bit more leading edge."
Planning and Strategy
"My advice, for instance, is go ahead and review your organizational mission statement, the strategy that you want to have to support, that you want the robots or drones to support, for example. Be very thoughtful in your planning. Do not go into this, with happenstance or let's find out if we can use it."
Defining Success
"Success for legal is not going to you what's going to be success for the security guard. Identify all those things and make sure that your strategy has line of sight back to all your stakeholder expectations. Do that. You are halfway home."
Article written by Cara Schildmeyer.
Latest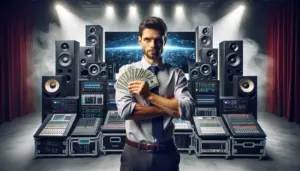 December 8, 2023
Mastering AV sales strategies in a global professional audio-visual (Pro AV) market, poised to reach $79.2 billion by 2028, requires much attention to detail. The surge in demand from corporate, government, and institutional sectors, driven by the need for enhanced productivity and efficient working environments, gives AV sales pros a lot of opportunity. In […]
Read More