The Loaner Tray Conundrum – How to Accurately Track Loaner Trays Throughout Your Department
Susie Martin, Project Manager with Professional Services at Censis Technologies, Inc., and Carrie Miller, Perioperative Enterprise Coordinator at The Ohio State University, spoke with ConCensis about best practices for loaner tray management. Miller said that in the case of Ohio State University's healthcare network, Censis' LoanerLink is a critical solution for efficient and safe loaner tray management.
"We have five locations and a large vendor influx at our two main locations," Miller said. "And we see, on average, about two hundred vendor trays a week, plus consignment. Using LoanerLink allows us to look ahead and forecast what's to be expected."
LoanerLink's cloud-based solution assists organizations and healthcare facilities in managing vendor surgical assets. This solution supports both the operating room (OR) and the sterile processing department (SPD) activities while enabling more efficient staffing procedures.
Through Miller's daily LoanerLink activities, she reviews the orders coming in and verifies vendor confirmation of orders. "We use LoanerLink to ensure not only the vendors are aware, but our staff is aware, and that helps us facilitate our staffing needs."
There are many benefits to complete tray lifecycle management. Knowing where the trays are at all times ensures vendors keep their timelines and commitments. And when the trays are ready to go back to the vendors, the management system facilitates the returns the trays don't get lost. LoanerLink isn't just for the healthcare facility to keep track of the trays; vendors will also use the system to see where their trays are in the facility throughout the tray's lifecyle journey.
LoanerLink can also integrate with CensiTrac, so if there are scheduling changes or cancellations, vendors will know if a tray is no longer needed or if a tray scheduled for later now needs to be moved up to an earlier time.
Martin mentioned a feature within LoanerLink that helps with vendor compliance. "There's a vendor rating section within LoanerLink," Martin said. "If you have a vendor that's notorious for not getting their trays delivered on time, you have documentation of that."
Latest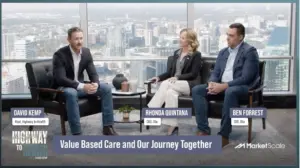 December 7, 2023
As of recent times, the healthcare industry has been progressively shifting towards value-based care, a model that emphasizes patient outcomes over the quantity of services delivered. This transition represents a significant shift that promises to enhance patient experiences and outcomes while controlling healthcare costs. With a growing emphasis on this approach, especially over the […]
Read More