4 Recommendations for Online Learning This Fall
A new resource from Indiana University (IU) offers a look at some of the most important factors that make online learning a success.
When IU closed physical classes and moved to online instruction, the eLearning Research and Practice Lab started work to gauge undergraduate students' and instructors' online learning experiences via a full-census survey.
While the trends and recommendations that emerged from that survey aren't intended to evaluate the university's online learning success, they do play an important role in helping stakeholders gain insight into the practices and policies that may help to guide their planning for fall.
Recommendation 1: Assign classwork judiciously, and in alignment with clear learning goals.
According to the research: "While this recommendation is generally applicable to all teachers, it is of paramount importance during remote instruction. Most students responding to the study reported increases in classwork volume, and in the effort required to complete it, paired with a decrease in their understanding of the course's learning goals and a great many references to large amounts of "busy work" in open-ended comments. For instance, 73% of students agreed that it took more effort to complete their assigned work after the transition to remote instruction, and many reported high anxiety due to ballooning numbers of deadlines and assignments."
Recommendation 2: Create opportunities for student-instructor communication, especially for first- and second-year students.
According to the research: "During the period of remote instruction, instructors became the primary lifeline between IU and its students. However, 67% of instructors agreed that they felt disconnected from their students, and 74% of students agreed that they'd lost touch with the Indiana University community. Freshmen and sophomores (24%) were more likely than juniors and seniors (19%) to disagree or strongly disagree that their instructors were more available for support. Furthermore, though Canvas tracks student access of online course materials, submission of online assignments, and visits to course sites, only 16% of instructors agreed that it was easier to keep track of how their students were doing. As students' local support networks dispersed, instructors have played a more central role in student support than they had previously; all the while, they were also occupied with adapting and delivering assignments and assessments."
Recommendation 3: Facilitate student success and foster a sense of virtual community through student-to-student communication.
According to the research: "One of this study's most poignant findings notes that many IU students experienced a deep sense of isolation during remote instruction. Many instructors, laudably, rose to the challenge of providing support and encouragement to their students and, as noted above, this should continue. Another important means of facilitating connection to the academic community, improving student engagement, and reducing feelings of isolation, is to provide more opportunities for students to interact with each other."
Recommendation 4: Collaborate with other members of IU's vibrant teaching community by sharing materials and successes and providing venues for others to do the same.
According to the research: "With instructors working from home, conversations with colleagues about teaching may have also been curtailed. To their credit, most instructors made strong efforts to develop original materials, and reported great investments in adapting their course materials, largely in isolation. Ninety percent of instructors agreed with the statement 'I created my own instructional materials,' and 68% agreed with the statement 'I was willing to freely share the materials I created with others.' However, only 29% agreed with the statement 'I asked others to share their instructional materials with me.' Importantly, 65% of instructors agreed with the statement 'It was more difficult to teach.'"
—
*This article also appears on eCampusNews
Latest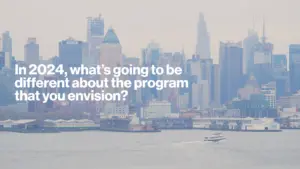 December 1, 2023
In the dynamic telecommunications landscape, Verizon's Partner Network continues to evolve, adapting to new trends and opportunities. For another segment featuring Mark Tina, VP of Indirect Channel Distribution and Channel Chief at Verizon Business Group, he explores exactly what types of significant changes and advancements the Verizon Partner Network will see in 2024. In this […]
Read More