Beyond the Classroom: Rethinking What's Normal in Education
In terms of the COVID-19 pandemic, an often-discussed notion is getting things back to normal. But in children's education, what if normal was never good enough? What if, along with this pandemic, comes an opportunity to create a better normal? Technology and other learning tools could provide an accelerated and personalized learning experience for students.
Beyond the Classroom host Tom Watkins invited a fellow parent and educator, as well as speech pathologist, Heather Taylor, to the program to discuss this topic.
Taylor was an award-winning track athlete who learned the value of coaching and teamwork in teaching throughout her educational journey. And part of that winning formula was support and acceptance. "When I looked at the kids I was working with when I became a speech pathologist in the schools, it was really important to continue working on their strengths," Taylor said.
While kids have individual struggles with learning, some children have specific difficulties, such as dyslexia, that may require additional support tools. And even Taylor, a trained educator, found spotting dyslexia in her own child difficult as she tried to help him be successful in learning in his early school years. "I'm so glad that I learned that there are specific programs that work for kids with dyslexia. For the other 80% of the kids, tons of programs can work."
With the knowledge that some kids need additional education support and that many kids learn differently, now is the time to rethink education for future success. All three of Taylor's children attend Centric Learning micro-schools. One of the benefits Taylor sees is that her youngest can get the tutoring he needs and a dyslexia-friendly curriculum that can help him succeed. And that's what the ultimate goal of education should be—success.
Follow us on social media for the latest updates in B2B!
Twitter – @MarketScale
Facebook – facebook.com/marketscale
LinkedIn – linkedin.com/company/marketscale
Latest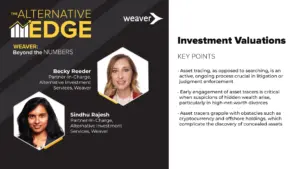 December 4, 2023
In this episode of The Alternative Edge, a Weaver: Beyond the Numbers Podcast, host Becky Reeder, an audit partner and co-leader of the alternative investments practice at Weaver, engages with Sindhu Rajesh, an Alternative Investment Services Partner with Weaver. They unpack the complexities of venture fund valuations, offering critical insights into industry dynamics and best […]
Read More