Boston Public Library-David Leonard Speaks on the Power of the Public Library
Public libraries have become more than just a place where people can read, borrow books, and access various types of information. They are vital centers for research in many schools and institutions. Technology has significantly impacted the growth of libraries and their necessity. Since the 60s, the introduction of computers into libraries, technology continues to have a central role in the services they offer today.
How do public libraries continue to be meaningful and essential places of information while keeping up with the evolving technology landscape and the needs of its patrons?
On the latest "DisruptED," host Ron J. Stefanski interviewed David Leonard, the CEO and President of Boston Public Library, about the state of public libraries in today's era, how technology has shifted and expanded its services, and how the Boston Public Library is keeping up with the times.
In addition to the technological changes in libraries, even occurrences like a global pandemic changedhow libraries function. Though libraries, and even pandemics, have been around for centuries, Leonard said that COVID-19 heavily impacted the library like never before but also encouraged them to welcome technology.
"It accelerated our move to embrace technology, and it meant that more people were borrowing eBooks, for example. That's one particular area that we saw huge growth in, and the other really was delivering all of our programming online on Zoom or other technology-based platforms," said Leonard.
Stefanski and Leonard further discussed…
The three main things that the Boston Public Library aims to offer its patrons
How a public library is a critical place for technology access
Why and how the needs of patrons influence some of the library's decision-making
"This concept of 'free to all' really captures what the essence of the library is about, and it's about meeting people where they're at. We're proud of our special collection, we're proud of our identity as a research library, but at the end of the day, it's about making a difference in people's lives," said Leonard.
David Leonard is the CEO and President of Boston Public Library, where he's worked since 2009. Before working in the library, he worked as an executive in technology. He graduated from University College Dublin and is working on his Ph.D. at Simmons College.
Latest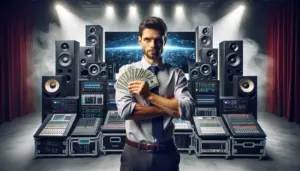 December 8, 2023
Mastering AV sales strategies in a global professional audio-visual (Pro AV) market, poised to reach $79.2 billion by 2028, requires much attention to detail. The surge in demand from corporate, government, and institutional sectors, driven by the need for enhanced productivity and efficient working environments, gives AV sales pros a lot of opportunity. In […]
Read More