Cambium Learning Group: Helping Teachers Teach and Students Learn

The education sector has gone through some major hurdles over the last few years. So whatever problems teachers and students were having before the COVID pandemic only got worse during and after. As challenging as things might be, it's a challenge one company is more than happy to take on.
On this episode of DisruptED, host Ron J. Stefanski sat down to talk with three executives from Cambium Learning Group, including CEO Ashley Andersen Zantop, COO Kemi Akinsanya- Rose, and CMO John Jorgenson. This group has made it its mission to improve education for both teachers and students, which is a special kind of mission in a post-pandemic world where issues from the pandemic can still be found in the classroom.
Stefanski and Cambium Learning Group executives: Jorgenson, Andersen Zantop, and Akinsanya-Rose discussed…
● The pandemic hit educators' abilities to teach and students abilities to learn
● Cambium Learning Group wants to help every teacher and student it can
● There are plenty of challenges in the classroom, but there are also many solutions
When asked about the challenges being faced and the solutions to solve them, along with what keeps her up at night, Ashley laid it out by explaining both her personal view and Cambium's purpose. "When we think about what we have to bring to the table at Cambium every day, we start with our purpose, and our purpose at Cambium is to help every teacher and every student feel seen, valued, and supported. And so sometimes when I'm up at night, I'm thinking about the challenges that everybody in this ecosystem is working together to try to address…"And those challenges are things like the outcomes that we've seen over the course of the last couple of years for students." Ashely noted how outcomes like reading scores only got worse during the height of the pandemic and how that must be addressed for more than two thirds of US students.
However, it's not all bad, as she has tremendous optimism for what she and Cambium can do to improve education for everyone. "I've had folks ask me a similar question—what keeps you up at night?" "And sometimes what keeps me up at night is the excitement to get started and to keep doing, because the imperative has never been greater, the need has never been greater, and the opportunity to make a difference, really, has never been greater because of that."
Kemi Akinsanya-Rose is the COO of Cambium Learning Group and the founder and owner of Puravida Leadership Group. She attended Northwestern University, where she earned her BA in Economics; The Wharton School, where she earned an MBA in marketing/strategy; and Broad Center for Management Systems, where she earned a Master's Degree in Educational Leadership.
John Jorgenson is CMO of Cambium Learning Group and was previously CMO at Carnegie Learning and SVP, Marketing in Cambium Learning Group. He holds a BA in English from Purdue University.
Ashley Andersen Zantop is CEO of Cambium Leaning Group and was previously COO of Cambium. She is currently on the Government Affairs Council for the Software & Information Industry Association (SIIA). Andersen Zantop has an AB in English Literature from the University of Michigan, an MFA in creative writing from Fairfield University, and multiple certificates from Harvard's Business School and Graduate School of Education. She also holds an AB.ED from the University of Michigan in Education.
Latest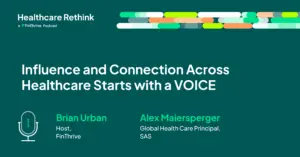 September 29, 2023
In the latest episode of the Healthcare Rethink podcast, presented by FinThrive, host Brian Urban sits down with Alex Maiersperger, the Global Principal Healthcare at SAS. Their conversation charts the role voice plays in influencing and connecting the healthcare industry. Maiersperger, who co-founded the Advancement League, shares his journey from being a healthcare optimist to […]
Read More