Understanding How Commercialization in Education Led to 2020's AP Tests: Ratified
Ratified is a radio show hosted by Voice of B2B Daniel Litwin, exploring the intersection of business and policy in long-form fashion.
After the nation issued a national emergency on March 13, 2020, the impact on public education rushed in like a tsunami. Schools shut their doors and hustled to transition to remote education. The word "unprecedented," was the word uttered across the country. Both local and federal government levels took note, and a hall pass was granted—mandated end-of-year testing would be waived. Meanwhile, College Board, a non-profit known for the SAT and Advanced Placement (AP) tests, soldiered on.
The organization cobbled together an at-home version of their end-of-year AP tests in just two months. The result? A flurry of technical issues: crashing tests, server slowness, and bandwidth struggles. College Board's response? A disregard of complaints as issues on the onus of the student, the test-taker. Now in the wake of its cobbled 2020 AP tests, College Board has earned itself a class action lawsuit. The non-profit faces charges including breach of contract, gross negligence, and violations of the ADA, to name a few.
On this episode of Ratified, host Daniel Litwin takes the intersection of business & politics to the US education system, hovering a magnifying glass over high-school standardized testing designed by College Board and trends of commercialization in the industry. In a multi-dimensional analysis, Ratified looks at how the tests grew to popularity, who creates them, what systems keep them a nationwide standard, and why College Board's latest remote AP testing debacle boils down to much more than just computer error.
The podcast welcomes two education professionals for outside analysis and a comprehensive look at the situation. Bob Schaeffer, Interim Executive Director at FairTest: The National Center for Fair & Open Testing, details the flaws of College Board's hastily made, at-home AP test. Second guest Carol Burris, Executive Director at the Network for Public Education, provides background on how schools, the College Board, and colleges fell into an unhealthy symbiosis, a relationship that she says ultimately costs children a quality education.
"This brand new technology was totally buggy," said Schaeffer of College Board's two-month-old virtual AP tests. "They never had the technology to do it in the past," he said, but in a matter of months, the organization had produced a new product.
Quite simply, the tests failed to have enough advance planning and testing to work on a variety of devices. So how did CollegeBoard get away with such a shoddy product?
"There is no federal agency that regulates standardized testing," says Schaeffer. By comparison, the federal government has systems in place to test the safety of cat food, but not on the tests that determine a child's future. Schaeffer says, "There should be a gatekeeper that makes sure that the tests that we give our kids have at least as much protection as the food we feed our pets."
Carol Burris, Executive Director at the Network for Public Education and former public school teacher, puts AP testing under the microscope. The tests, she says, are "better at measuring the wealth of community than they are the quality of the school."
The tests require a nearly $100 fee, creating a socioeconomic gap of accessibility. Beyond that, the tests rely heavily on multiple-choice and are inherently stressful for students. As colleges look highly upon AP tests, many students find themselves over-enrolled in rigorous courses their senior year, drawing away from what Burris describes as a richer educational experience.
Burris says of the SAT and AP tests, "The high stakes use makes them popular…however, at the same time it's doing a real disservice to kids and to teachers and to schools that become subject to having very important decisions made about their existence based on a faulty measurement."
The President of College Board, David Coleman is reported to make a salary of over $1 million a year. That may be destined to change as College Board faces a significant revenue hit, a direct result of their AP test blunder and a nationwide trend to drop the SAT test requirement. The current developments in education post-pandemic open up a wider conversation for the future of standardized testing in public schools, and the questionable responsibility we give to the private organizations that create them.
Click here for previous episodes of Ratified, and make sure to subscribe to the Ratified channel on Spotify and to MarketScale Radio on Apple Podcasts.
Latest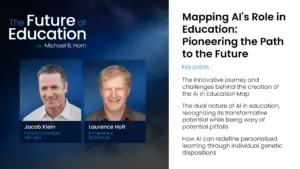 October 2, 2023
Mapping AI's role in education should be a critical step in bringing together innovative technology-based solutions with the expertise of human educators. With rapid advancements in artificial intelligence and an increased reliance on technology-driven educational solutions, the education landscape is on the brink of a significant transformation. AI promises highly personalized learning experiences, efficient administrative […]
Read More