Creating Social Impact with Technology at Special Olympics
You probably watched the Olympics on television before, but have you had the chance to be part of a local Special Olympics event that supports individuals with intellectual disabilities? If not, look into it; the Special Olympics helps 5.5 million athletes and takes more than 1 million volunteers to run the program in 193 countries. This takes a massive amount of data to promote successful organization and efficiency.  
How does The Special Olympics use information from millions of athletes to enhance the experience and improve involvement?  
On today's episode of DisruptED, Host Ron Stefanski speaks with Prianka Nandy, Chief Information and Technology Officer of Special Olympics, to discuss how Nandy is helping the audience better plug into Special Olympics as a movement. 
During the pandemic, the Special Olympics saw reduced athlete numbers. Now, they are trying to grow back by understanding who their athletes are and how they can best be involved through one of many components of their research called "The Athlete Movement Project."  
Stefanski and Nandy also discussed… 
How she has used data from 16 million athletes to continue her transformation journey at the Special Olympics

 

The different levels of engagement available at the Special Olympics 

 

What else the Special Olympics has to offer to participants aside from the actual athletic experience

 
Nandy described how she hopes the data they are collecting will transform involvement.
"We've been able to find talent, we've been able to find the corporate sponsorships in some cases, and we're starting to come through with a core centralized data strategy…so it's not just about we want your money to help our organization. It's about we want your time and your involvement and engagement. And how can we convert you, say, from a donor to a coach or from an athlete to a coach?" 
Nandy is the Chief Information and Technology Officer of Special Olympics International and has experience designing digital and data governance structures. She has served in other international positions, such as Chief Data and Analytics Officer and Data Program Manager, Technology Division, at World Food Programme. Nandy's accolades include VPU Team Awards for the 2 Minute Feedback Survey, the Open Knowledge Repository, and the World Bank Finances Mobile App from the World Bank Group. She has a BA in Economics from Virginia Tech and a Master of Public Policy with a Social Policy concentration from George Mason University.  
Latest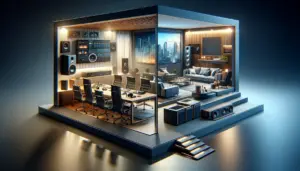 November 27, 2023
In this episode of "Pro AV Today," host Ben Thomas sits down with Audra Kinsley of Sonos Professional to unpack a topic that's causing (sound) waves in the audio industry: the fusion of commercial and residential audio systems. As we navigate through a landscape where consumer and professional audio worlds are increasingly intersecting, Sonos steps […]
Read More