EdTech Needs to Embrace Parents Post-Pandemic
Not even one month into his new role as Chief Strategy Officer at ParentSquare and Chad Stevens has created the first and possibly most important edtech acronym for 2021. In this episode of EdTech Today, Chad drops the particulars of Parent Relationship Management (PRM) and how the present technologies that kept families connected to schools during COVID will only improve as we move past it.
Stevens joins ParentSquare from Amazon Web Services where he most recently had the title of Leader, K-12 Education, guiding the team focused on K-12 customer priorities to provide cloud infrastructure and services that support improved academic performance and operations. Stevens had been with Amazon for five years and was an inaugural employee of the AWS K-12 team.
"I've dedicated my career to improving education outcomes for all students"  – Chad Stevens
In the new Chief Strategy Officer role, Stevens will work closely with ParentSquare's co-founders, CEO Sohit Wadhwa and President Anupama Vaid, to expand ParentSquare's relationships with school districts across the U.S., supplying insights and driving execution based on his extensive knowledge of K-12 institutions and the edtech industry. "We're excited to have Chad—with his depth of experience and strong reputation in education—on the executive team at ParentSquare," said Wadhwa. "He's been a long-time advocate for the intelligent use of technology in schools, which aligns with ParentSquare's drive to improve parent engagement and communications equity."
Stevens is well known in education and edtech. He serves as a board member of the Consortium for School Networking (CoSN) and sits on the Driving K-12 Innovation Global Advisory Board. He also recently was part of the Washington Remote Learning Taskforce that examined remote learning challenges facing students during the COVID-19 pandemic across the country, and made recommendations to best address them.
Prior to Amazon, he was Chief Education Strategist for CDW-G and, among several earlier school roles, was Chief Technology Officer and Principal for the Clear Creek Independent School District in Texas. He has a Ph.D. in Educational Administration from Texas A&M University.
"I've dedicated my career to improving education outcomes for all students," Stevens said. "Becoming part of ParentSquare is a perfect fit that allows me to get back to my roots as a teacher, Principal and Chief Technology Officer while using my private and public sector experience to impact millions of students, educators and parents."
Follow us on social media for the latest updates in B2B!
Twitter – @MarketScale
Facebook – facebook.com/marketscale
LinkedIn – linkedin.com/company/marketscale
Latest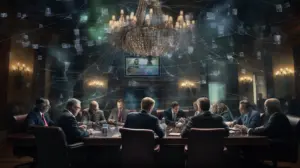 October 3, 2023
In August 2023, the National Institute of Standards of Technology (NIST) put out a request for comments on the Preliminary Update from the Internet of Things Federal Working Group (IoTFWG), which aims to provide the nation direction on how to improve IoT adoption and expand its use cases for the future of industrial, corporate, […]
Read More