Educator Confidence Report Highlights Dip in Teachers' Perception of Role
Houghton Mifflin Harcourt recently released its 2021 educator confidence report, and the findings were not particularly optimistic.
In this clip from MarketScale's EdTech Today, host Kevin Hogan weighs in on what the report's findings might mean for both the short and long-term future of education.
"As with most news coming out these days about the state of education in the midst of the pandemic, there are good numbers and there are bad numbers.
Houghton Mifflin Harcourt came out with their annual 2021 educator confidence report, which is an annual barometer, now in its seventh year, where they ask how educators on the front lines in schools across the country are feeling about the state of teaching and learning.
This year, only 38% of educators reported a somewhat or very positive view of the state of their profession, which is down from 49% in 2020. [Further,] 37% of educators reported thinking the pandemic would increase respect for teachers this year, which is a significant decrease from 63% in 2020.
It's very disappointing figure in the conversations that I've been having with EdTech Today guests that, across the board, it seems that the perception as a parent or as a professional that everyone has seen the recognition of what these folks do for the kids.
Unfortunately, it doesn't seem to be getting through to them. Now, there was also some good news that came out of that. And that comes when we talk about the use of education technology in school — 77% now believe the technology will help them be better teachers post-epidemic.
Additionally, 56% of educators reported the improved ability of students to access instructional content anytime, anywhere, which reinforces the value of technology for K-12 education and should give educators and parents a peace of mind that the progress is being made on that front.
So not all good news, not all bad news. I think, at this time and this date, as we go forward to the 2021-2022 school year, we just need to keep on keeping on."
Follow us on social media for the latest updates in B2B!
Twitter – @MarketScale
Facebook – facebook.com/marketscale
LinkedIn – linkedin.com/company/marketscale
Latest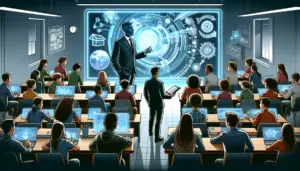 November 27, 2023
In an era where education stands at the crossroads of tradition and innovation, the potential value of thought leadership becomes the guiding star for progress. "Just Thinking" dives into this potential with host Kevin Dougherty and guest Evan Edwards, a Professional Learning Specialist at 806 Technologies who exemplifies the transformative impact of visionary guidance […]
Read More