Educators Improving their Performance without Burnout

Depending on the type of leadership role one takes in education, oftentimes, burnout is inevitable. According to Gallup research, K-12 educators report burnout the most, with four out of 10 indicating that burnout is a normal feeling for them. However, there are reasons for that and ways educators can reevaluate their performance in their leadership style. How does burnout happen with educators? And what are the ways they can improve their workplace performance without experiencing burnout?
In an episode of "DisruptED," host Ron J Stefanski talked to Dr. Joe Hill, the founder of Higher Performance Group — a professional training and coaching company. The two discussed their concerns about burnout challenges facing educators. Having worked in various leadership roles as an educator, Hill is well-versed about the mental and physical obstacles educators face.
The stresses of a leadership role in education may come with challenges. Oftentimes, these drawbacks lead to many in those positions spending a short time in them. According to the Learning Policy Institute, principals in particular have a significant turnover rate and burnout\ is one of the contributing factors. But Hill added work-life balance doesn't enter the equation, but rather a state of conditions.
"If you're a school leader, you learn the lifestyle, you learn work and life—integration if you will—but there's never balance. But there is certainly burnout and I think we've been seeing just heightened levels of that. I read a lot on what's happening in the world of education with K-12 and higher ed, and they're projecting nearly 40 percent leadership turnover over the next five years. Well, they're having a hard time filling positions now—today," said Hill.
Stefanski and Hill speak on performance without burnout …
● Balancing the desire for performance improvement and avoiding burnout
● The importance of educators forming communities that support and challenge them
● Emphasizing the necessity of value and worthiness in one's work
"We all must get up in the morning to have something to look forward to that has any purpose to it, and it doesn't matter if you're checking into the office or going to volunteer down the street. Whatever the day consists of it should be worthy and purposeful—never accidental, always intentional," said Hill.
Dr. Joe Hill is an educational leader, speaker, and founder of Higher Performance Group. He has over three decades of experience as an educator in being a teacher, principal, and a superintendent. He is a graduate of the University of North Dakota and St. Cloud State University. Hill has a forthcoming book being released this spring titled, "Leading from Peace," which will focus on tips for leaders.
Latest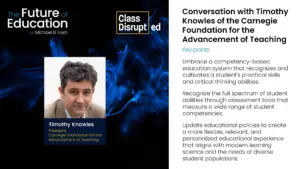 December 4, 2023
What approaches must education take in advancing teaching in a post-pandemic world? How can traditional education reshape itself to include a more dynamic, skills-based learning approach? As educational paradigms shift towards nurturing adaptability and critical thinking, leaders in the field are poised to redefine the learning framework to prepare students for a rapidly evolving […]
Read More