How a Utah Incubator is Helping to Solve Education's Tech Needs
The world of EdTech is exploding as the demand rises due to COVID. However, taking a curriculum from in-person to online isn't as easy as turning on a webcam. It requires sophisticated tools that serve outcomes, but most of these platforms don't live up to the hype. Evidence-based product design and development are bridging the gap, and EdTech expert Lisa Ferrara, Senior Program Manager at WGU Labs, shared her insights.
WGU Labs invents, builds, and invests in EdTech solutions with startups, applying learning science, social psychology, and research. "One of the challenges still is higher learning aligning with career goals. Students now demand that a degree get them employed. It's time to reconsider the value of programs to students and employers.," Ferrara noted.
Another challenge is faculty readiness. "Institutions need to adopt and define an Edtech evaluation process, starting with desired outcomes for the learner. Faculty readiness is a focus for WGU Labs. It's a long process to adapt. Leveraging models for adapting online teaching methodologies is a way to evolve," Ferrara said.
What makes an EdTech solution a good fit? One way is through research, yet there's not an abundance out there. Ferrara pointed to The Hechinger Report, which showed that the boasts of these companies are just that. "Most of the solutions weren't validating, or the results weren't replicable. The development of the products wasn't evidence-based, which is the approach we take. We use pilot programs, feedback, and data to get startups to a viable product," she stated.
WGU Labs works with startups using evidence-based methods. "It starts with: does the product solve a specific need in the market? Is it evidence-based? What backs it up? These are the questions that matter," Ferrara remarked.
Looking to the future, Ferrara believes evidence-based product design is the best path to meeting learner, faculty, and employer needs.
Latest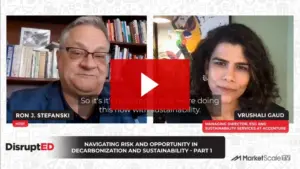 September 26, 2023
The global conversation has shifted dramatically towards decarbonization and sustainability in recent years. With the world experiencing unprecedented levels of disruption, from 5G technology to the challenges of a pandemic, the urgency to address climate change and its implications has never been more palpable. Although most business leaders see the vision of Sustainable Development […]
Read More