How Companies are Gaining Talented Individuals

The Get Sh** Done index was high at the December 2022 MICHauto Summit. Its featured topic: Accelerating Our Tech-Talent Future, boasted several expert panels on EV and digital transformation. DisruptED's Ron J. Stefanski attended the event, and one speaker, Jose L. Flores, caught his attention. Flores is the CEO of Ancor Automotive, the leading Tier 1 Automotive supplier of Data Management and VIN-specific label solutions.
After a brief conversation at the summit, Stefanski knew he wanted Flores on DisruptED. And it makes perfect sense; Flore's colleagues describe him as a disruptor. Flores graciously accepted Stefanski's invitation.
In this second installment of a continuing conversation with Flores, Stefanski and Flores focused on talented individuals and how obtaining and retaining talent is essential for company growth and moving the needle forward on innovation.
But solving this challenge is no easy feat. There are millions of openings in the tech space, so obtaining the right talent is critical and can also be difficult.
"One of our biggest challenges right now, and I've been discussing this for several months with my fellow executives, is our talent pool is not getting any bigger," Flores said. "And it's draining quite fast out of the state (Michigan). So, how do we grow our pool, and how do we keep the pool within the state?"
Stefanski and Flores also discuss the following…
● Forming partnerships with higher education to recruit talent
● What companies need to do to keep talented individuals once they find them
● The importance of internships and other programs that invest in talent as long-
term pieces of a company's growth strategy
"We have interesting internship programs here at Ancor where we invest, and we pay for your education if you're working for us," Flores said. "But also, it's getting on the creative side. For example, recently, I came up with an idea of doing an innovation hub." Jose L. Flores is the chief executive officer of Ancor Automotive. He also serves as an advisor for the Michigan Science Center. Flores's passion for helping his community continues through his involvement in different charities and professional organizations, including MICHauto, and he is a Let's Detroit ambassador.
Before joining the automotive sector, Flores worked for a globally recognized consulting firm, turning around companies from different industries worldwide.
Latest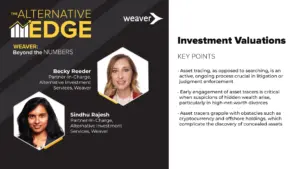 December 4, 2023
In this episode of The Alternative Edge, a Weaver: Beyond the Numbers Podcast, host Becky Reeder, an audit partner and co-leader of the alternative investments practice at Weaver, engages with Sindhu Rajesh, an Alternative Investment Services Partner with Weaver. They unpack the complexities of venture fund valuations, offering critical insights into industry dynamics and best […]
Read More