How Personalized Education Programs Will Be Able to Scale
At Zovio, the company's approach to education and the edtech services that power it is centered on one vision – helping clients understand their learners and educators and "personalize at scale."
On this episode of the Voices of eLearning, host JW Marshall was joined by Zovio CEO Andrew Clark for a discussion about how the company goes about doing just that.
There are some key tenets to engaging in the use of edtech and engaging courses that can help lead to success – namely, analytics and data need to be leveraged to deliver powerful insights about how courses can be tailored for more optimal results, and deeper understandings of learners and those educating them can empower the lasting results and relationships at scale that Zovio is after.
In nearly two decades, Zovio has seen higher education turn more and more toward online learning, going from a sector of the educational world that essentially never used the tool in the early aughts to widespread adoption, now, spurred along further by the COVID-19 pandemic.
"I would say that higher education didn't really embrace online learning until probably about six or so years ago. Of course, the pandemic has forced everyone to go online," Clark said.
Online learning's place in the spotlight after the pandemic has forced nearly everyone to adopt some form of online education, though the quality of solutions tailored to this virtual setting still varies. Schools that had already begun to engage in online learning were ahead of the curve, as are those that have now leveraged "smart" online learning services and solutions from companies like Zovio aimed at delivering better results.
Latest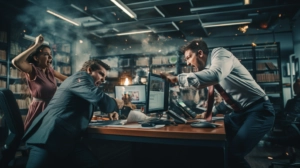 September 22, 2023
The kind of news that is delivered everyday serves as a grim reminder of the escalating violence across the U.S. Evidently, the need for proactive measures to ensure safety has never been more pressing. Such violence is not limited to any particular locale. It's actually permeating in so many different areas once considered […]
Read More