Elevating Your Digital Presence in EdTech
As the education industry continues to recover from the COVID-19 pandemic and work out ways to excel in the new normal and beyond, new players are beginning to enter the edtech space – but they often need a little help getting the word out.
Enter Square32 Consulting.
The company works with others in the education space to devise communications and marketing plans that help them grow and find success in an industry that's constantly evolving.
Square32 Consulting's success is largely driven by its leadership, including Founder and CEO Jennifer Stringer. On this episode of the Voices of eLearning, Stringer joined host JW Marshall to dive into how her own hands-on experience in education informs her current work and how the COVID-19 pandemic has shifted the company's approach to helping organizations hit the ground running.
"Being a former educator and edtech buyer in leadership for schools and districts, I found that there was a bit of a disconnect in the way that companies were going to market," Stringer said. "The expertise and the knowledge that myself and a few of my other teammates gained in working in schools and in knowing what's happening on the inside really led to opportunities to help companies understand that market."
The pandemic has made digital presence more important than ever, leading to a renewed focus on online efforts for Square32, particularly in helping companies that need to catch up and keep pace.
"Those companies that had not diversified their approach to building business were caught a little off guard and started to realize how quickly other people were ramping up their efforts," Stringer said.

Latest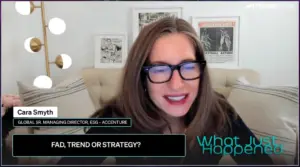 November 30, 2023
The world is in an era where sustainability and responsible retail business practices are increasingly crucial. For the latest episode of "What Just Happened," host Christine Russo further explored the hows and whys of this pressing issue by interviewing Cara Smyth, Global Senior Managing Director for ESG and Responsible Retail at Accenture, and Chair […]
Read More