How Technology and Education are Vital Cycle Breakers of Social Inequality
Ron Stefanski and Caesar Mickens Jr talk with Jamey Fitzpatrick and David Richards on this episode of DisruptED. The episode focuses on optimizing technology in education requires professional development for teachers. The educators consider the lack of technology infrastructure to factor into 2020's learning loss. Richards and Fitzpatrick share insight into how technology and education are vital cycle breakers of social inequality.
Richards started as a tech director in the early nineties. He was motivated by his educators, who showed him that he could break the cycle of poverty. Initially, his school experience was for sports and socialization, but Richards learned that education was a path of opportunity. He believes that every child deserves more. To this day, Richards believes that education is the "most dramatic game-changer" in fighting the growing wealth disparity.
As the tech director, Richard's principal and mentor focused much of the school development budget on Richards. He traveled all over learning computers and leveraged technology for education in the school curriculum. Richards recognized the opportunity to leverage a resource that would level the playing field.
A huge hurdle is the inequality of resources, especially when computers were first released. That technology was primarily accessible to upper-middle-class families and schools. Richards likens introducing technology to in-person teachers to the process of grief. There's anger, denial, sometimes bartering, and acceptance. In training, Richard recommends approaching it from a place of empathy – understanding that these teachers have found success in the traditional model and shifting to the digital model is an entirely different science. Start with the reasoning for technology to relieve resistance. Traditional teachers need to understand that technology will provide a lot of ways to enhance the teaching process. The return on investment comes down to improving student achievement. The education system can move the needle significantly by using voice, video, or data.
More Stories Like This:
Latest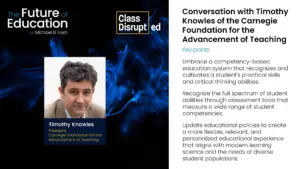 December 4, 2023
What approaches must education take in advancing teaching in a post-pandemic world? How can traditional education reshape itself to include a more dynamic, skills-based learning approach? As educational paradigms shift towards nurturing adaptability and critical thinking, leaders in the field are poised to redefine the learning framework to prepare students for a rapidly evolving […]
Read More