Making Video Accessible to Educators
Modern students can't remember a time when their lives weren't saturated with media. These students find technology intuitive and are accustomed to learning on multiple devices, through several different modalities. It's no surprise, then, that the field of education is increasingly aware of the effectiveness of video-based learning.
Christine Umayam, senior content marketing manager for Screencast-O-Matic elaborated on video-based learning during the 2020 TCEA Conference. Speaking with Marketscale's Daniel Litwin, Umayam explained that the educators she has met recognize the need for video. The challenge educators face is that they are trained to teach, not to produce media.
Screencast-O-Matic is designed with educators in mind. A type of software that integrates video creation, editing, and hosting, Screencast-O-Matic is user-friendly. The all-in-one design of the software makes it easy for educators to overcome barriers to implementing video-based lessons, tutorials, and more. Educators can use the all-in-one design of Screencast-O-Matic to create channels for their videos based on topics or units. This allows educators to focus on the content, not on learning and adapting to new technology.
As the education industry increasingly seeks to offer one-to-one learning opportunities to students, Screencast-O-Matic proves to be a valuable tool. Educators can put learning directly into the hands of their students. Whatever devices students are using, handheld or not, they can engage with what they are learning anywhere, anytime. This enhanced accessibility is conducive to multiple learning styles and environments by diversifying the way information is shared and received.
Learn more from Christine Umayam about easily integrating video into education. Tune into our chat during the TCEA conference and stay on top of what's trending in education today by subscribing to MarketScale's EdTech channel.
Latest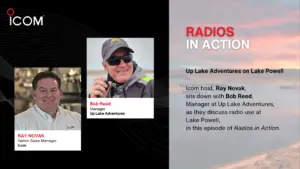 November 29, 2023
Delving into the serene beauty of Lake Powell, the Icom Podcast "Radios in Action" pairs the thrill of personal watercraft adventures with the crucial use of marine radios. Host Ray Novak and Bob Reed, the Manager of Up Lake Adventures, discuss the enthralling experiences offered by Up Lake Adventures in Utah's majestic landscapes. In […]
Read More