Microsoft Education Details Remote Learning Successes And Goals
Industry behemoth Microsoft Education this week began to document how the company is responding to the global pandemic and offers resources for institutions to move forward. Alexa Joyce, Future-Ready Skills Lead at Microsoft, posted a comprehensive summary of what countries that have already passed through COVID have been able to accomplish so that those who are still struggling can have a model.
Joyce specifically points to Italy, Georgia, and the UAE as positive case studies:
As the crisis unfolded and expanded across countries globally, Microsoft came together with UNESCO to support its Global Education Coalition for COVID-19 Response. This brings together hundreds of partners from both the public and private sectors to help students in countries such as Senegal, Vietnam and Gambia to continue to access learning opportunities despite school closures...Given some countries have already reached the peak, the next phase is to reconsider what the "new normal" looks like in schools, and how the large-scale deployment of technology can facilitate hybrid learning while some students remain out of school. Through the close and ongoing partnership between technology and education, we are convinced we can create the right approach to ensure learning never stops.
Microsoft has also published this Distance Learning Strategic Plan, a guide for primary and secondary education systems.  Here's the nut:
Microsoft Education Transformation Framework is an evidence-based model for designing system changes and leveraging technology to support that change. It can be a model to support schools and systems to build-on strengths and achieve successful alignment of strategic, operation, cultural, capacity, and technology resources to improve learning outcomes. There are specific elements of this Framework that are most relevant for Distance Learning strategies: 
To dig in the particulars of the framework, go here.
Latest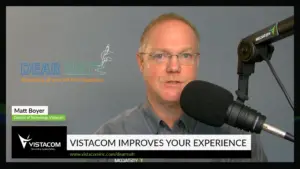 December 11, 2023
In a time when the AV industry supply chain faces unprecedented challenges, understanding its current status and future trajectory is crucial. In this week's segment of "Dear Matt," presented by Vistacom, host Matt Boyer, the Director of Technology at Vistacom, brings his over 30 years of experience in the audiovisual industry to the status […]
Read More