STEM Education for Students K-12
At Automation Alley's 2022 INTEGR8 Conference, the hot topic of conversation amongst advanced manufacturers and conference attendees was how to increase student numbers in STEM programs. 
The DisruptED podcast hosts Ron J Stefanski and Dr. Caesar Mickens Jr. attended INTEGR8. Mickens said the conference proved it's an exciting time in education for STEM but that there is a lot of work to do, especially in boosting minority and economically disadvantaged student engagement in STEM programs. With this thought in mind, Stefanski and Mickens invited Joseph DiBacco onto the program.  
 As Superintendent of the Ansonia Board of Education, DiBacco is someone high on Stefanski and Mickens' GSD scale (gets stuff done.) With the state of advanced manufacturing needing more skilled people, it's more critical than ever to find educators who know how to get stuff done, especially in encouraging K-12 students to seek careers in STEM. And DiBacco knows, all too well, the importance of giving minority and economically disadvantaged students opportunities in the STEM field. 
 "I became superintendent in Ansonia, Connecticut," DiBacco said. "Ansonia, the most popular moniker, is not to say we're the most economically disadvantaged city in the whole state of Connecticut. I serve a predominantly low-income population. Everyone gets free breakfast and lunch here in the district. However, on the happy side, we had a rich manufacturing history here in Ansonia. And understanding that, the residents here harken back to a time where it was a bustling industry. I look at Ansonia like a 2.0, a true rebirth." 
 DiBacco's conversation with Stefanski and Mickens includes: 
The need for local businesses and education to collaborate to build a better future

 

Partnering with edtech companies to offer STEM courses to students

 

Outcomes of the STEM-driven programs in DiBacco's education system

 

How technology is transforming the world of manufacturing into a space of new opportunities

 
 "There are thirty-five businesses that are just in the supply chain, locally here, that go to Sikorsky," DiBacco said. "And when you work with the Vice President of Sikorsky, if I can't get a job proper for our students at Sikorsky, there's thirty-five companies around that service them, and many other areas." 
 Joseph DiBacco, a graduate of Boston College, received his Bachelor's degree in Elementary Education, Special Education, and Teaching. DiBacco received his Master of Education from Southern Connecticut State University. DiBacco has been the Ansonia, Connecticut Board of Education Superintendent since July 2019. 
Latest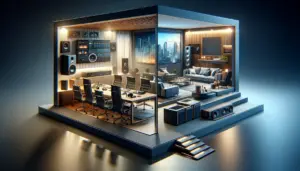 November 27, 2023
In this episode of "Pro AV Today," host Ben Thomas sits down with Audra Kinsley of Sonos Professional to unpack a topic that's causing (sound) waves in the audio industry: the fusion of commercial and residential audio systems. As we navigate through a landscape where consumer and professional audio worlds are increasingly intersecting, Sonos steps […]
Read More