The Disrupted Future of Advanced Manufacturing: Episode 2
Has the industrial manufacturing landscape leaped beyond experts' understanding of what's capable? Industry 4.0 is here, and those innovations and efficiencies, once touted, are now going into practice. From sustainable industrial manufacturing 'lighthouse factories' to NYU's $1 billion investment in the Tandon School of Engineering, all eyes are fixed on making the technological breakthroughs necessary to disrupt the future of advanced manufacturing.
Last month, General Atomics Aeronautical Systems announced a partnership with Divergent Technologies to harness its additive manufacturing capability. General Atomics' interest in Divergent was due to Divergent's model-based, AI-driven, and topology designs.
On this episode of DisruptED, Ron J Stefanski rejoins Lukas Czinger, Co-Founder of Czinger Vehicles and COO of Divergent Technologies, for the second of three episodes dedicated to the future of advanced manufacturing.
In their first episode, Stefanski and Czinger discussed solving manufacturing challenges through 3D printing, creating scalable solutions through advanced manufacturing, and the potential for Divergent's capabilities in national defense solutions.
Stefanski noted that many naysayers told Czinger that the type of solutions Divergent and Czinger Vehicles were creating were impossible. The results speak for themselves, and additive manufacturing solutions are here today, not tomorrow.
"We started in earnest about six and a half, seven years ago," Czinger said. "So, we have spent some years developing this. And this was the sort of venture where you start out with a lot of unknowns… It's the type of venture where you must jump in with both feet. This is a full commitment with the risk being accepted."
During their second conversation, Stefanski and Czinger discuss…
● Reducing the cost of entry for additive manufacturing to make it scalable
● Maintaining manufacturing standards to build street-ready parts that meet EPA and crash-test certifications
● The scientists and engineers working on Divergent and Czinger Vehicles' solutions
"For me, talent is the number one most important thing to building a sustainable business and taking on and succeeding with a development this hard," Czinger said. "One of our key advantages, along with all the technology we've developed, is the team we have here and how passionate that team is. But also, how skilled that team is."
About Lukas
Lukas Czinger is a Yale graduate with a BA in electrical engineering. He co-founded Czinger Vehicles in 2019 and received recognition as one of Forbes's '30 Under 30' in January 2023. Czinger Vehicles is preparing to build 21C sports cars in 2023.
Latest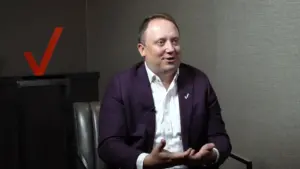 December 1, 2023
For a special episode of The Verizon Partner Network the focus was on the considerable role of partnerships in the Verizon Partner Program and the leaders shared their perspectives on the initiative. Their conversation brought about a lot of thought-providing context on the evolving telecommunications landscape. In today's era, collaboration and integration are key to […]
Read More