The Future of Advanced Manufacturing is Moving Towards AI Technology

What can go zero to 60 in 1.9 seconds, reach a top speed of more than 280 miles per hour, boasts a 1,350 combined horsepower, and is human-AI designed and 3D-printed? Welcome to advanced manufacturing and the latest vehicle revolution: the Czinger 21C. Scottsdale, Arizona, home of the Barrett-Jackson luxury car auction, is home to one of only 15 dealerships in the world that offer Czinger Vehicles.
Czinger Vehicles marks another example of how AI and other technologies impact industry and advanced manufacturing, disrupting the status quo and ushering in an exciting new future.
On this episode of DisruptED, Ron J Stefanski welcomes his high-octane guest to the program for the first of their three-episode series dedicated to the future of advanced manufacturing. Lukas Czinger is the COO and Co-founding force behind Czinger Vehicles and more recently, the COO of Divergent. Czinger joined Stefanski to discuss his career and vision for Czinger Vehicles and Divergent.
Working with his father, Kevin, Czinger puts his efforts and determination into solving automotive and manufacturing challenges.
"When we started, Kevin had this vision for what is a natural transition from analog to digital manufacturing, and why do we want to make this transition," Czinger said. "It starts with the why first, and that was throughout a lifetime of thinking about technology, automotive, and defense manufacturing. It was based on these two principles: automotive is broken from a capital structure, a capital return standpoint because they are freezing all their spending in tooling and infrastructure upfront. And then number two, we've got this massive buzz around EVs, and that's only looking at one piece of the puzzle. What really needs to be looked at is cradle-to-grave lifecycle emissions."
During their first conversation, Stefanski and Czinger discuss…
● The process of solving manufacturing challenges through 3D printing
● Czinger's mission to create scalable solutions through advanced manufacturing
● The potential for Divergent's capabilities in national defense solutions
"Right now, we're taking those steps and gearing up in aerospace defense and our relationships on the government side," Czinger said. "Over the next six months, you are going to see Divergent's profile change quite a bit. You'll see government interest on a scale that you don't typically see the government move this fast on."
About Lukas
Lukas Czinger is a Yale graduate with a BA in electrical engineering. He Co-founded Czinger Vehicles in 2019 and received recognition as one of Forbes's 30 Under 30 in January 2023. Czinger Vehicles is preparing to build 21C sports cars in 2023.
Latest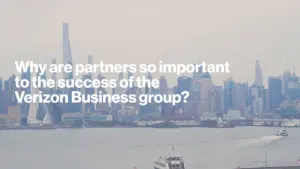 December 1, 2023
A special episode of The Verizon Partner Network focuses on an examination of an industry marked by fierce competition and rapid innovation. But most importantly, how the role of partnerships in a company's success is increasingly vital. Mark Tina, the VP of Indirect Channel Distribution and Channel Chief at Verizon, details why partners are essential […]
Read More